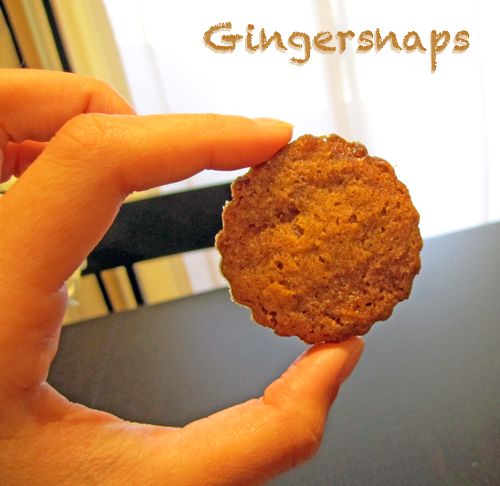 June, which became Cookie Month at Sweet Melissa Sundays, is coming to a close. All of the cookie with the exception of the macaroons were big hits in this house. It would be hard to pick a winner amongst the other three - Honey Chestnut Madeleines, Pistachio Linzer Thumbprints, and these Ginger Snaps all are passed our test with flying colors. This was a great recipe to round up the month with! Nice pick,
Gloria
! (Gloria's blog is The Ginger Snap Girl so this choice was appropriate!)
I halved Melissa's recipe because I didn't want to end up with 4 1/2 dozen cookies... but I only wound up with 16! And I used a one inch cookie scoop like the recipe stated. Not sure what happened there! Maybe I scooped heaping spoonfuls of the dough. Knowing how good these cookies are, next time I'd go for the whole batch.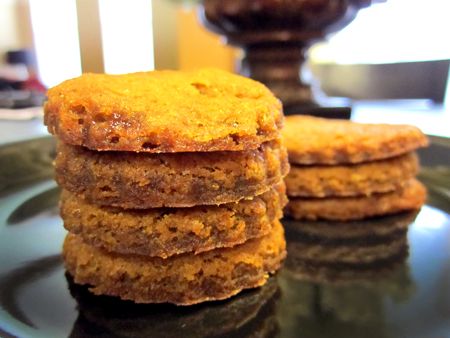 They are not super spicy like other Ginger Snaps I've had. I think they're actually quite mild, but the flavors are definitely still there. The only change I made was to use black pepper (I don't have white) and I reduced the amount called for by half. I also subbed in half cinnamon-half nutmeg for the allspice (I've still haven't picked up any allspice yet). I wound up chilling my dough almost twelve hours, so I'm not sure if that made any difference in allowing the flavors to blend together so nicely.
I didn't love how they looked when they came out of the oven. They got a little thin and ugly at the edges, so I quickly grabbed a cookie cutter and punched shapes out from the still hot and soft dough. It worked like a charm! (And eating the scraps was pretty great, too :)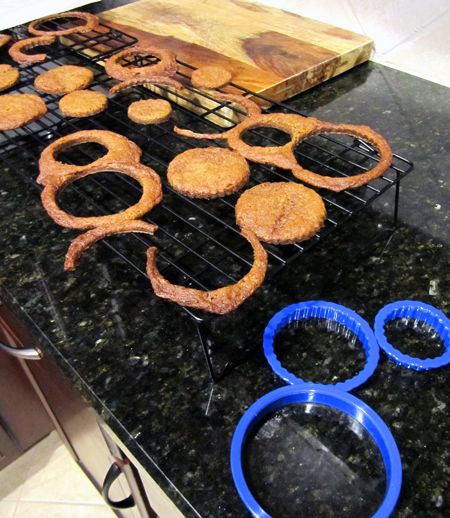 I followed
Jeannette's
advice from the
Ginger Snaps P&Q
- to underbake the cookies slightly to get that soft-baked chewiness. Since the edges that I cut off crisped up, I got to taste what the cookie would have turned out like had I not underbaked them. What's really nice about this recipe is that the cookies are good both ways - slightly underbaked and soft, AND crunchy and crispy way.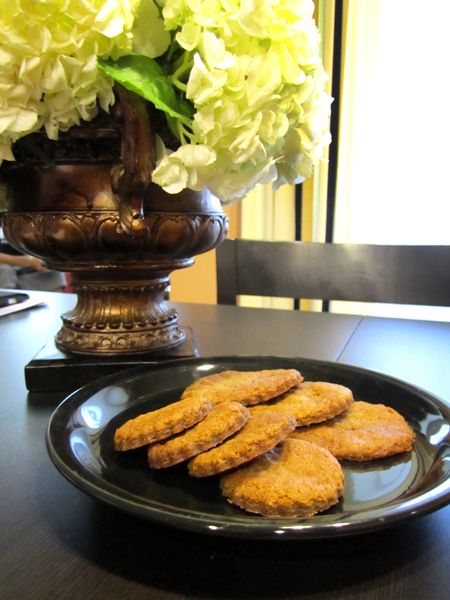 These were absolutely delicious and didn't last very long. So good in fact that I'm actually tempted to make another batch right now and whip up some homemade lemon ice cream to make Gingersnap - Lemon ice cream sandwiches. :)
Thanks for hosting,
Gloria
! These were probably one of my favorite recipes from SMS so far! Be sure to visit the
other bloggers'
who baked along this week to see how their ginger snaps came out!