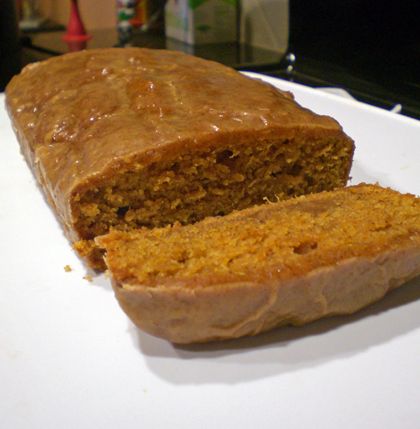 Besides terrible, terrible (terrrrrrrrrible) allergies, this time of year is pretty great. The semester is rapidly coming to a close, its bathing suit weather again, and today is my wonderful fiance's birthday! The one thing that isn't so great about this time of year (besides the horrendous mind-bogglingly debilitating seasonal allergies. Spite you, tree pollen.) is the un-availability of yummy fallish ingredients. I searched and searched for canned sweet potato! But it was nowhere to be found. I thought of Pumpkin as a yummy substitute but that is out of season and nowhere here in Florida at the moment either. Not really having enough time to think about how to buy sweet potatoes and make them on my own, I bought a can of Bruce's Yams in Syrup, and opted to drain all the syrup from the can. Not really thinking about it, I bought a 15 ounce can (since I planned to halve the recipe and prepare it in a loaf pan).... but straining the syrup from the can left me with less than 15 ounces. Oh well, I had to make due on my tight schedule. I just decreased the amount of all the other ingredients I put in as well. This was kind of a winging-it kind of recipe for me. The only real change, besides messing around with the amounts of ingredients, was to use only cinnamon in the batter instead of all of the spices Melissa called for.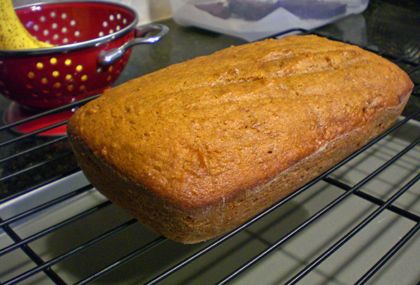 Also, I chose to do a cinnamon confectioner's sugar glaze instead of the Cinnamon-Rum-Orange Glaze the original recipe called for. We aren't big fans of orange and we don't have any rum. My glaze went something like this:
Cinnamon Glaze
3/4 C confectioners sugar
1 tsp cinnamon
1 tblspn butter, room temperature
2-4 tsp hot water
1/2 - 1 tsp vanilla, to taste
Beat all ingredients together until smooth. Pour half of the glaze over the still-warm loaf (I allowed it to cool for 20 minutes before topping with the glaze). Wait about 10 minutes, allowing the glaze to harden slightly, and then pour the remaining glaze over the loaf. This way you get a nice thick layer of the glaze. I used a pastry brush and painted the glaze on to the sides of the loaf as well.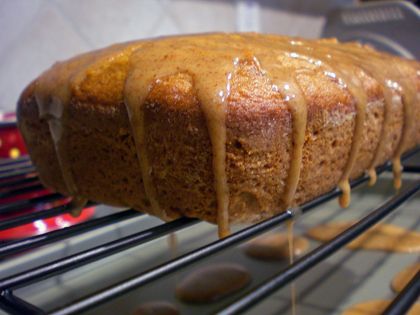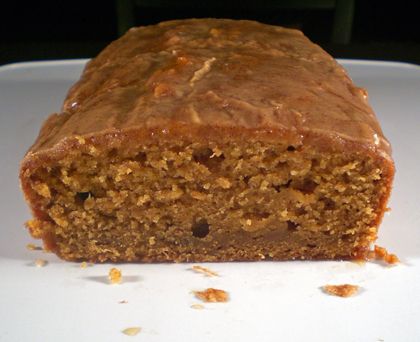 The result was quite good, considering all the estimating I did with the ingredients. The bread was very moist and not too sweet. The spicy cinnamony glaze's sweetness complementing the bread nicely. I bet this would be good with whole wheat flour too.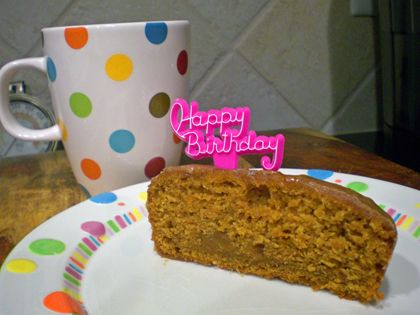 Breakfast for the birthday boy... he got his tradition b-day breakfast, cinnamon buns, yesterday :)
Be sure to visit the
SMS Blogroll
to see how this one turned out for the other members. And see the host, Lorelei's blog -
Mermaid Sweets
, for this week's recipe.
...have you thought about
Mother's Day
yet? I am offering my devoted blog readers
twenty-five percent off
a purchase at
TheSmartBaker.com
.
25% Off!
That's the highest discount we've done so far, but its for a limited time only (offer good until Wednesday, May 5th, 2010). Just type in
MD2010
during check-out in the "Coupon Code" spot. Our clever Measurement Conversion aprons come in Burgundy, Red, Pink, Navy Blue, Forest Green, and Black and are monogrammed with your choice of Initial
free
. And now you can get a Measurement conversion kitchen towel to go along with it and complete the gift! Your mother will definitely appreciate it :) (offer excludes custom orders).