Mmm cookies. I will never turn down an opportunity to make (or eat) a cookie. So I jumped at this week's Sweet Melissa Sundays recipe, chosen by Lara of The Lab:
Pecan Shortbread Cookies
. My boy isn't much of a fan of dry, crumbly shortbreadish cookies, so I took Nina's idea and ran with it - use it as a crust for a bar cookie! Good idea,
Nina
!
I prepared Melissa's recipe for Pecan Shortbread cookies exactly as the book stated, and spread it into the bottom of a prepared, greased and parchment-lined 8x8 pan. I baked it for about 20, 25 minutes until lightly golden. Then I let it cool completely while I prepared the filling.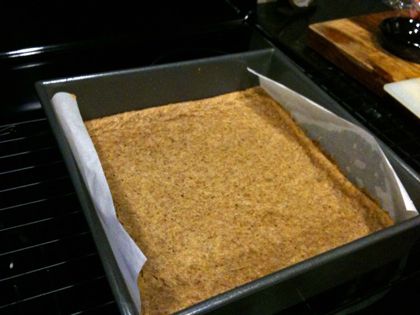 We are big key lime fans in this house. And I've seen many recipes for Lemon and Lime bars and loved the idea but never got around to make them. So, I thought this was my opportunity! I used
THIS
recipe from Pat and Gina Neely for the lime filling. The Neelys' recipe was fo a 9 x 13 pan (which holds 12 ounces) and I was using a 8x8 (which holds 8 ounces) so I scaled down the recipe to use about 3/4 of the original recipe. Let me just tell you this was a bit of a disaster from the very beginning.
First, I make an ENORMOUS mistake. After I added all the ingredients, I saw the recipe said, "Pour the lime topping over the cooled crust." Well... my dough was SO THICK that it was practically busting my kitchenaid mixer open... definitely NOT pourable. It turns outttttttt, I had added 4.5 CUPS of flour, when the recipe really called for TABLESPOONS. Haha, OOPSSS. So I set aside my disaster dough for a while and re-zested limes, re-juiced limes, and re-made the filling. :) I poured it into the cooled pan and let it bake for 25 minutes. I removed it when the filling looked set.
I let it cool, like the recipe said, and then tried to cut it. It seems my filling never set up right... maybe I didn't bake it long enough? Or maybe I did something wrong? I'm not sure, but it OOZED out when I tried to cut it.
I wound up saving the dessert by transforming it into a refrigerated treat... it cut much easier and didn't ooze when it was chilled. And it still tasted quite good cold!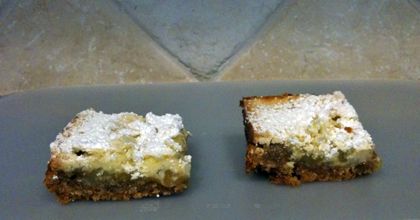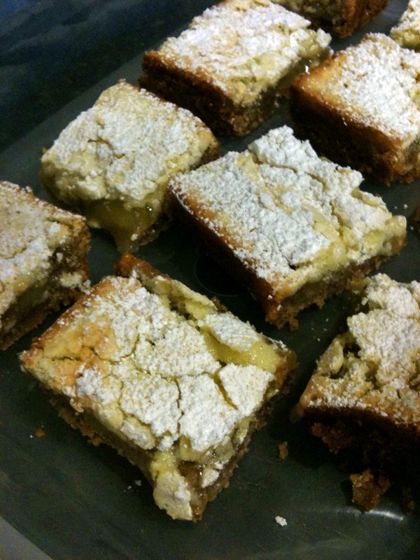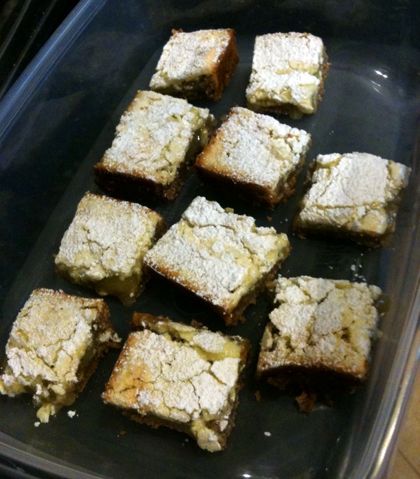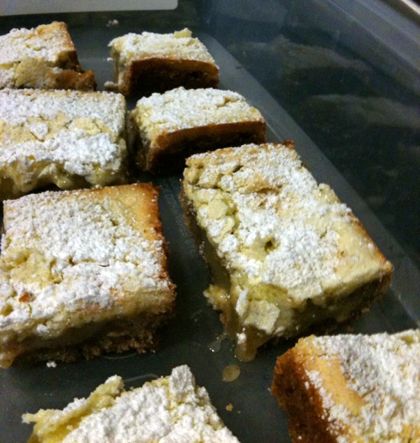 With the little bit of remaining Pecan Shortbread crust I had left over from making the bar cookie base, I made some regular ol' cookies the way The Sweet Melissa Baking Book said... only problem is it was wayyyy too crumbly. After baked and cooled, I could barely pick them up without them crumbling into a million pieces. Anyone else have this problem? Maybe this just wasn't my day in the kitchen. :)
So whatever happened to all the OOPS key lime dough? The one where I added CUPS instead of TABLESPOONS of flour? I had to at least try baking it before throwing it away! The result?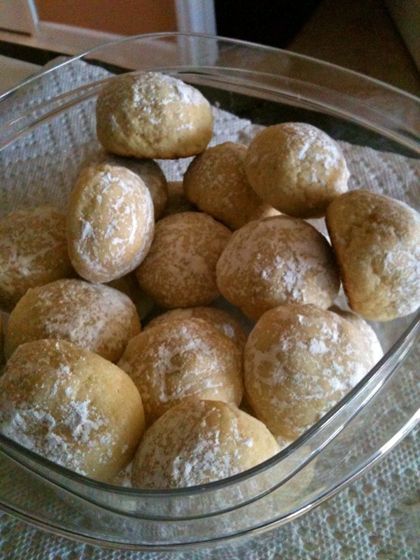 Little cookie-balls. They maintained their exact shape while baking. I rolled the balllies in confectioners sugar and let em finish cooling. They turned out kinda soft, kinda chewy and have just the right amount of tangy lime-ness. Not THE best cookies in the world, but not the worst either. :)
Today was just one of those days I needed to put the towel down and get out of the kitchen. Maybe its all the allergy medicine.
Anyway, have a HAPPY EASTER! I hope everyone else's baking went more smoothly than mine!! Check out
the blogroll
to see how everyone else fared with this week's recipe. And see
Lara's blog
for the recipe. Thanks for hosting, Lara!!