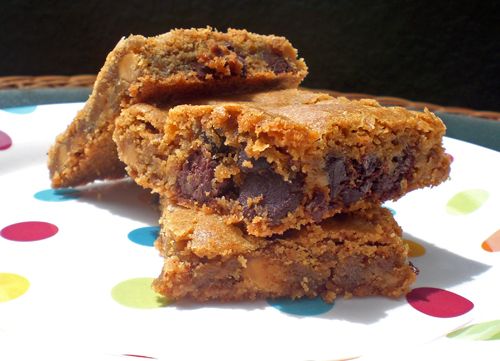 Though I do not own this book yet (YET), I have heard soooo many great things about Dorie Greenspan's
Baking: From My Home to Yours
. This past weekend, I got around to making her
Chewy, Chunky Blondies
(page 109) since we are real big blondie fans in this family. I prepared the recipe with only minor changes (I omitted the coconut and walnuts, and instead of her
6 ounces bittersweet chocolate chopped into chips, or 1 cup chocolate chips & 1 cup Heath Toffee Bits
I did
3/4 C chocolate chips
(mostly bittersweet with a handful of Hersheys Special Dark thrown in) and
1/2 C Peanut Butter Chips
. Other than that, I stuck to her recipe so I won't post it here (But you can find it
HERE
and
HERE
).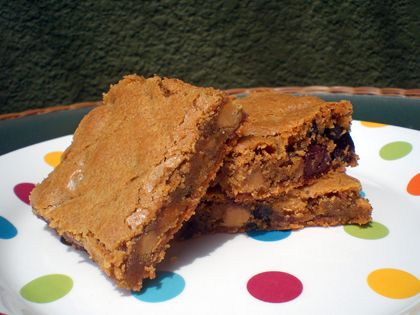 These blondies came out very good. Good enough that I want to go out and buy the book now for the rest of the recipes. Though they were nothing
extra-spectacular
that makes them stand out from other blondie recipes I've prepared, I'd definitely make them again. They were a cinch to throw together, nice and sturdy and moist, and with some rich caramelly tones.
I want to take a poll... I'm considering making cupcakes for my wedding this October. I have about 75 - 90 guests, so I'd make around that many cupcakes, and I' get a mall 6 inch cake made professionally to use as the "cake cutting cake" that I put my cute little cake topper on. I'm not doing anything super fancy, just piping some frosting on and maybe throwing a gum paste flower on it (that I would purchase, not make). Does anyone have any thoughts on this? Some people say I can do it, others say I'm totally insane. Fellow bakers - what are your thoughts??? I'd love some insightful input and wisdom. :) Thanks!