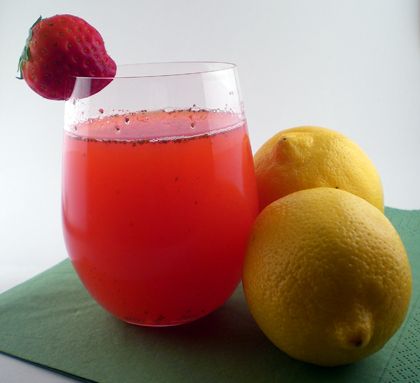 It is nice to put my kitchen to use for things other than brownies, cupcakes, blondies and cookies sometimes. Those are definitely the most common things to come out of my oven. Sweet, chocolately, caramelly, peanut buttery goodies. And while they are always appreciated and devoured, sometimes making something completely different is a nice, welcomed change.
In comes
Strawberry Lemonade
. It's not served warm straight from the oven and smothered in vanilla ice cream like many of our other favorites, but I knew it would be warmly received in my house. The entire one and a half quarts of it was gone in about two days. Perfectly sweet and tart and very refreshing.
I've made one full recipe, but divided it in half and prepared it two ways:
One
- standard (see the Sweet Melissa Baking Book page 85 or visit Jessica of
My Baking Heart
for the recipe), and
Two
- with
Truvia Natural Sweetener
substituted for sugar. I even conducted a blind taste test with the two recipes.
How do I know how much Truvia I need to replace the Sugar called for in my recipe?
1 tsp of sugar = 1/2 packet of truvia (or 3/8 tsp truvia)
2 tsp sugar = 1 packet of truvia (3/4 tsp)
1 tblspn sugar = 1 1/2 packets truvia (1 1/4 tsp)
1/2 c sugar = 12 packets (3 tblspn + 3/4 tsp)
For a full conversion chart for Truvia to Sugar, see Truvia's website
HERE
.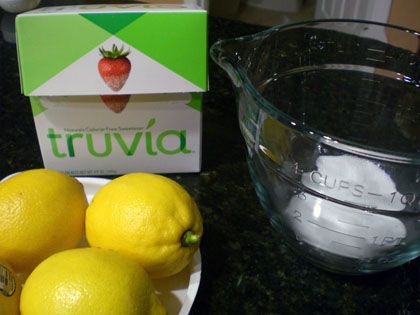 Sugar-Free Strawberry Lemonade made with Truvia
makes about 3/4 of a quart, adapted from Sweet Melissa Baking Book
Ingredients for truvia strawberry sauce
1/2 a pint of fresh strawberries, rinsed and hulled
1 1/2 packets of truvia (or 1 1/4 tsp of Truvia)
1/2 tsp fresh lemon juice
1 tablespoon cold water
In a food processor, blend the berries, truvia, lemon juice and water until smooth. Strain it into a bowl, cover it and refrigerate.
Ingredients for Truvia strawberry lemonade
12 packets truvia
1/2 cup very hot water
1/2 up freshly squeezed lemon juice
2 1/4 cup cold water
1 recipe of truvia strawberry sauce (above)
Combine 9 packets of truvia and the very hot water and stir until the truvia has dissolved. Stir in the lemon juice and cold water.
Add the truvia strawberry sauce and stir to combine. Add additional truvia to taste (I added 3 more packets at this point).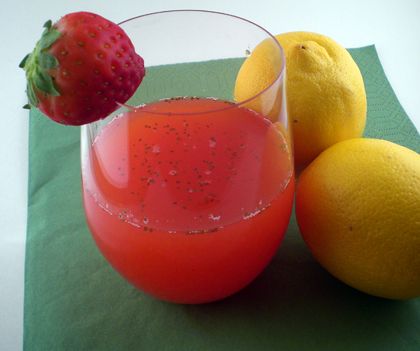 So, on to the
TASTE TEST
... you're really curious right?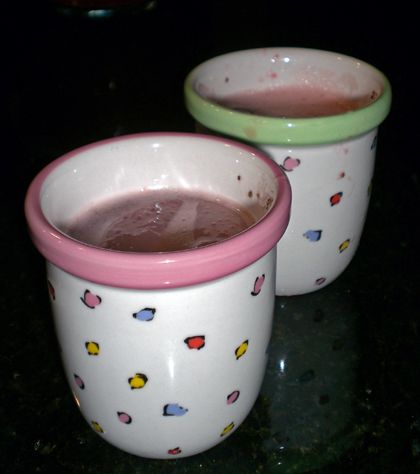 I poured Daniel two glasses and made him guess which was which. He said he could tell which was the Truvia, but that he actually liked it BETTER. Then I made him pour me two glasses and I had to guess which was which. And I guessed wrong every time. So... its a success!
Make sure to visit Jessica's blog,
My Baking Heart
to see this week's recipe from the Sweet Melissa Baking Book. And check out the
blogroll
to see how the lemonade came out for all the rest of the bakers!