You know those Danish Butter cookies that come in a blue tin? You knowww, the ones with those pretzel shaped cookies covered in giant crunchy sugar crystals. Yes, those. There is something soo good about those seemingly nothing-special cookies that makes me and the fiance eat through an entire tin of them every time we go to Grammy's house. (Grammy
always
has a these on hand). So, since Daniel is just getting over a nasty cold, and I woke up extra early (why oh why did I wake up at 5:50??) I decided to try and make a Danish Butter Cookie copy cat recipe for him as a welcome-back-to-the-world surprise.
The result? Good! Well, I guess I mean
very
good considering that by the time Dan called me to thank me he had eaten his way through 90% of them. According to him, the expert, he said, "They're pretty close... maybe even better" than the beloved Blue tin cookies. They definitely are more buttery and soft than the original, and there is more of a melt in your mouth crumbliness. But maybe thats a good thing. I think the key here is the egg wash and turbinado sugar topping - definitely don't skip this step! The only thing I'd do differently next time is try to make them a little bit thicker when extruding them out with the cookie press.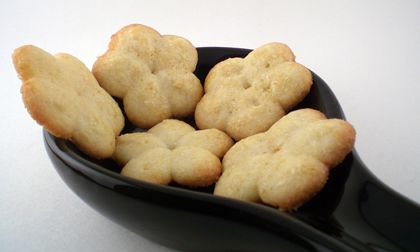 Danish Butter Cookie Copy Cats
1 stick unsalted butter, softened
1/3 cup granulated sugar
1/8 tsp fine sea salt
3/4 tsp vanilla
1 large egg yolk, room temp
1 scant cup all purpose flour
1 egg white beat with 2 tsp water
turbinado sugar
Preheat to 350°F. Beat butter with granulated sugar until light and fluffy. Add egg yolk, salt, and vanilla and mix until incorporated. Add the flour and beat the dough until just mixed - Don't over beat it! Spoon dough into a cookie press fitted a disk and press cookies about 1 inch apart onto ungreased baking sheets - not even parchment! Brush cookies lightly with egg wash and sprinkle generously with the turbinado sugar. Bake for 10 to 14 minutes, or until the edges are just starting to turn golden. Transfer cookies to racks immediately when taken out of oven and let cool on racks.