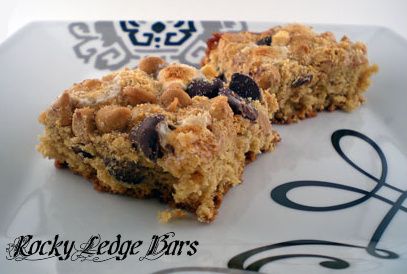 Unfortunately, there will be no Sweet Melissa Sundays for me today. I'm sorry! But I do have a recipe to share with you and it is pretty scrumptious. It's quick and easy, too - so if you forgot to get your Valentine something there's still time to whip up a batch, throw a bow on it, and pretend like you've been slaving away in the kitchen for them all morning.
What do you get when you combine a blondie, a s'more, peanut butter and nilla wafers?? Well...
these
Rocky Ledge Bars
, based off of a Martha Stewart
recipe
. I scaled it back, made some substitutions, added some yummy things and left others out and ended up with this. These are a great use-whatever-you-have-on-hand kind of recipe...very substitution friendly.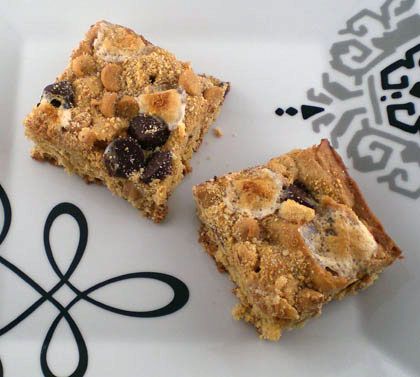 Rocky Ledge Bars
adapted from Martha Stewart
Ingredients
:
1/2 stick unsalted butter, room temperature
1 cup + 2 Tblspn all-purpose flour
1 1/8 teaspoons baking powder
1/2 teaspoon coarse sea salt
3/4 cup packed light brown sugar
1.5 large eggs
1/2 teaspoon pure vanilla extract
1/2 cup miniature marshmallows
1/2 cup semisweet chocolate chips
1/2 cup peanut butter chips
1/4 cup crushed nilla wafer crumbs, and extra for dusting
cinnamon sugar
Preheat oven to 350 degrees. Lightly grease an 8x8 square baking pan and line with parchment.
Whisk together flour, nilla crumbs, baking powder, and salt in a medium bowl. In the bowl of an electric mixer, mix butter and brown sugar until fluffy, about 2 minutes. Add eggs and vanilla, and mix until combined. Add the flour mixture and stir until combined. Fold in 1/4 cup each of the marshmallows, chocolates, and peanut butter chips.
Spread batter in prepared pan. Sprinkle the remaining marshmallows, chocolates, peanut butter chips, and nilla crumbs on top. Sprinkle with powdered sugar to taste. Bake until golden brown and a cake tester comes out clean, about 30-35 minutes. Let cool on a wire rack.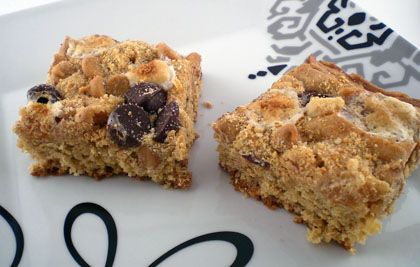 (For SMS, visit
Spike Bakes
' Blog to see the recipe... They did Chocolate Mousse this week, mmmm!!!! And see how it came out for the bakers by checking out of the
blogroll
. Happy Valentine's Day... or Happy Anna Howard Shaw day!)