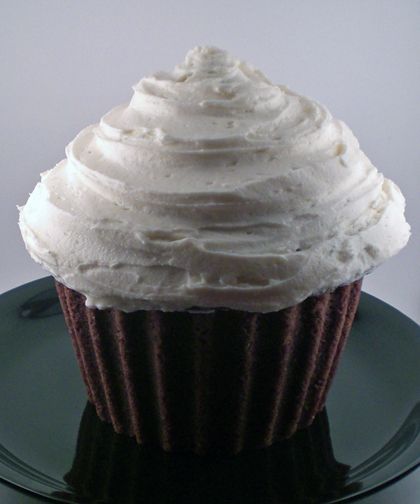 I recently got a fabulous giant cupcake pan as a gift, but haven't got around to using it yet. I rarely make cakes because there are only two of us here, and cupcakes, cookies, brownies and other single-serve goodies are easier to give away. But I wanted to use my new pan so badly! Finally, I had an opportunity. Rosy of
Rosy Lips and Lavender
chose
Red Velvet Cake
as the recipe of the week for
Sweet Melissa Sundays
. As soon as I learned we were going to make a cake, I knew I'd make a GIANT JUMBO CUPCAKE! Plus, I need practice... I
plan
on making my own cupcake tower for my wedding in October, and topping it with one of these giant cupcakes (as the cake we can cut together).
Melissa's recipe for Red Velvet Cake was a rather simple one to put together. The only changes I made were to reduce the cinnamon to 1 tsp (only because I ran out!!) and to use apple cider vinegar instead of red wine. I also used food coloring gel, so I had to guesstimate how much of it equalled 2 tsp of the liquid stuff. In my jumbo cupcake pan, I lowered the oven temperature to 330, and it baked for about 70 - 75 minutes.
I used all the batter in the giant cupcake pan and it rose quite a bit... (which was totally fine with me because it meant I got to taste the scraps).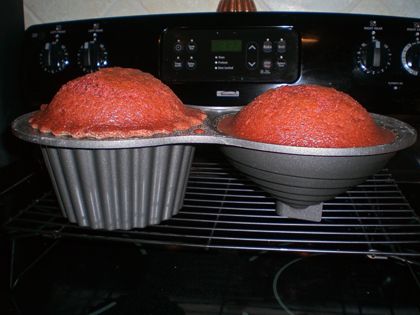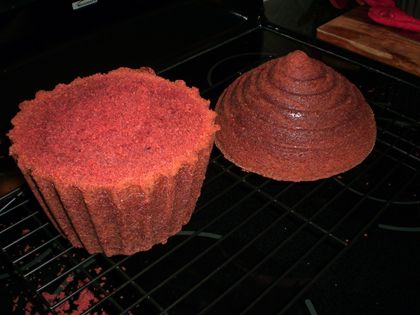 But it leveled out nicely.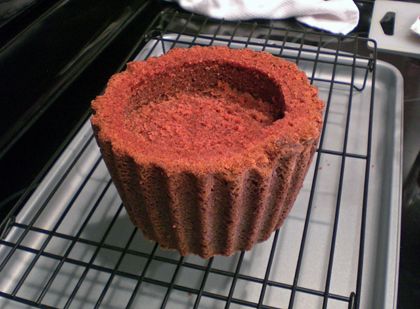 I omitted the Classic Cream Cheese Filling & Frosting, and instead, used
my favorite Vanilla Buttercream
to frost it, and a Marshmallow Fluff Cream for the filling... mmm [see recipe below]. I took about 1.5 or 2 inch layer out of the middle to make room for a nice amount of filling.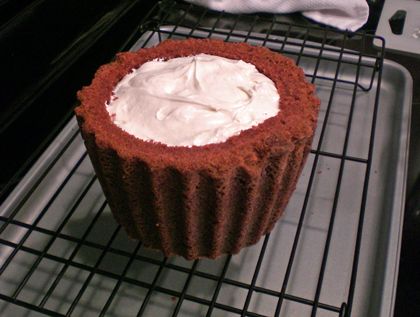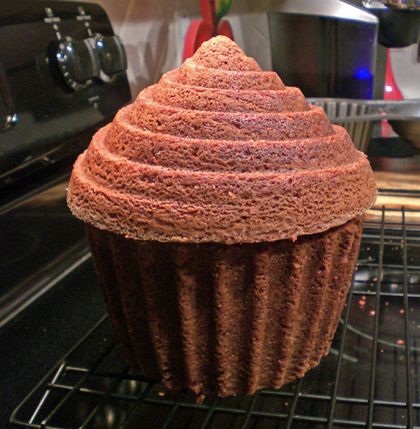 With its hat on!
Now to frost it.. I was a little anxious about this. I googled pictures of giant cupcakes to see different ways of frosting it. Piping didn't seem like a good option, it looked a little silly to me. And frosting it smooth looked bizarro. I knew I had to use an offset spatula to make it look natural and billowy... and I also knew I'd get really frustrated with this. So... In comes Daniel! He's really very good to me when I get frustrated frosting things. He took over the frosting job and within 5 minutes it was done, and I love it! Good job Daniel!!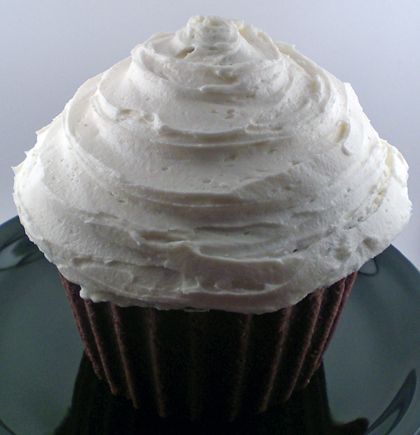 For scaling purposes, I put a normal sized cupcake liner next to it... Woah.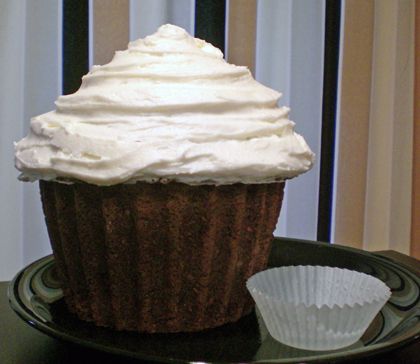 I will have to put up a picture of the cross section later after we cut into it!
Marshmallow Fluff Cream Filling
adapted from
Please Pass the Pie
Ingredients:
4 oz. Marshmallow Fluff (I recommend Non-Stick Spraying your measuring cup first... it'll plop out nice and easy!)
6 tablespoons unsalted butter, softened
3/4 cup confectioners sugar
1/2 t. of vanilla
Combine all ingredients in the bowl of an electric stand mixer. Cream together ingredients. When all are combined, turn the mixer up to medium-high and beat for about 5 minutes until nice and fluffy. Spoon onto cake and spread with a rubber spatula.
This filling was deliciously sweet and complimented the moist red velvet cake very nicely! I used this entire recipe to fill the cavity I made in the cake. It came out nice and sticky so it kept the hat on the cupcake perfectly.
Judging from the cake scraps, this cake came out very moist and had great flavor. I like the addition of cinnamon - not something I've done in a Red Velvet cake before, but I think it adds a nice touch. I can't wait to try it later all put together with the fluff filling layer and the buttercream frosting :)
Curious how it came out for the other bakers? Visit the
blog roll
here and see their results! And thanks to Rosy of
Rosy Lips and Lavender
for hosting this week (Good choice Rosy, I loved this one!) - visit her blog to see the recipe.