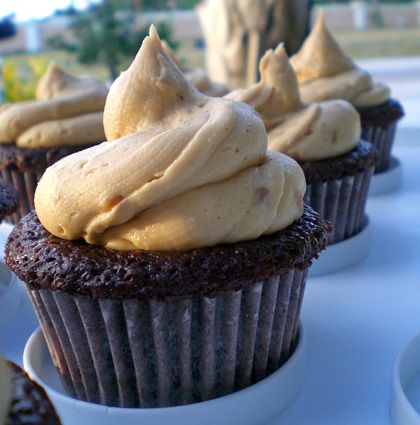 Chocolate. And Peanut Butter. A combination that will never ever ever get old. For this week's
Sweet Melissa Sundays
recipe,
Holly of Phe/mom/enon
chose Devil's Food Cake with Peanut Butter Frosting. Yesssss!!! I decided to make cupcakes instead of a full cake and let me just tell you, this new addition to our kitchen REVOLUTIONIZED the cupcake making process. Ok maybe not
revolutionized
but it made it considerably more efficient.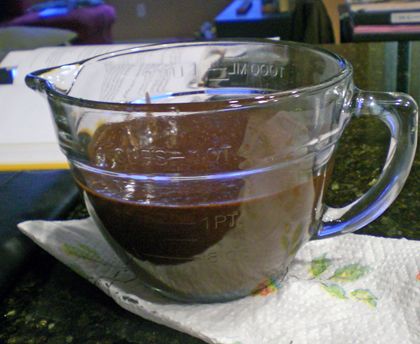 Dan's mom got us this batter bowl from pampered chef, and it made the pouring-the-batter-into-the-cupcake-pan process much quicker and easier. I used to put the batter into a large zippy bag and then sort of pipe it into the wells, but this new bowl and its little spout eliminated that unnecessary step. I'm totally loving it.
I made the recipe for the devil's food cake exactly as is, except that I used water instead of coffee. I'm a coffee-addict, but some of these cupcakes were piped with pink buttercream and were donated to Making Strides Against Breast Cancer so I didn't want to assume everyone would like or want coffee in their treat. For the other cupcakes, I made the Peanut Butter Frosting, but I chose to use chunky peanut butter, and do Karen's variation, just scaled down:
Peanut Butter Frosting
...this made enough to frost 8 cupcakes
1 stick of butter, softened
2 cups of powdered sugar
1/2 tsp vanilla
1/2 cup natural super chunky peanut butter
Combine the first three ingredients in a mixer with the whisk attachment, mix until smooth. Add the peanut butter.
The cupcakes and the frosting came out delicious. Nice choice, Holly! Be sure to visit Holly's blog,
Phe/mom/enon
, for the recipe or buy the Sweet Melissa Baking Book. And check out how this recipe came out for
the other SMS bakers
!