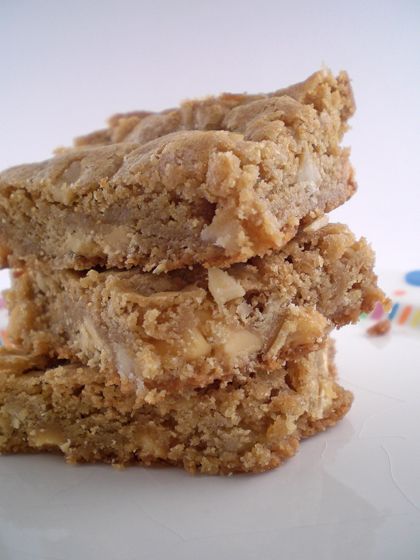 A little while back, I saw this post for Salted Blondies on one of my very favorite blogs,
3 B'S .... Baseball, Baking, & Books
. I bookmarked it and KNEW I'd have to come back to it when I had time. Her inspiration came from
The Delicious Life
which was a
Heath Bar version
. I chose to make
Ingrid of 3 B's Version
: White Chocolate Chip and Macadamia Nut Blondies. Yummm.
Just as both bloggers claimed, this recipe was super easy. And it came out Super, Super Delicious. Mmm. On my way home from a meeting with my professor yesterday, Daniel called and said, "I think I may need my stomach pumped... I had too many blondies". Yes, they're that good. Dan and I agree that they're cookie-er tasting than other blondies I've made...if that makes any sense. The extra touch from the coarse sea salt really put these over the top. I used my favorite go-to sea salt: Diamond Crystal
All Natural
Coarse Sea Salt. I use it in every recipe in place of regular salt and it adds an extra dimension to all my creations.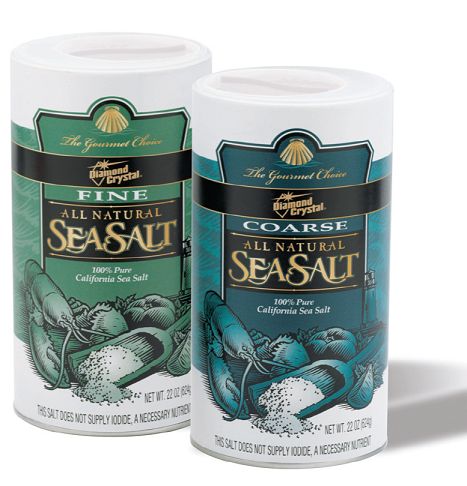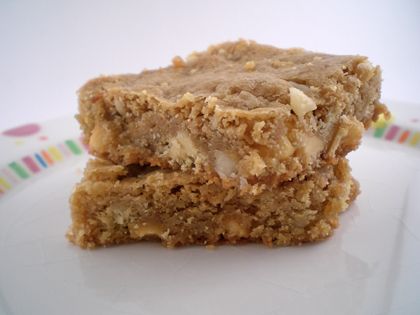 Sea Salted Blondies, with Macadamia Nuts and White Chocolate Chips
from 3 B's & The Delicious Life
Ingredients
:
1 C A.P. Flour
1/2 tsp Baking Powder
1/8 tsp Baking soda
A heaping 1/2 tsp of Diamond Crystal All Natural Coarse Sea Salt
1 C brown Sugar
1 stick butter, melted & slightly cooled
1 large egg, room temoerature
1/2 tsp Vanilla
3/4 C white chocolate chips
~1/4 C Chopped Macadamia nuts
Preheat oven to 350. Lightly grease an 8×8 baking pan, line it with parchment, and lightly grease the parchment.
In a large mixing bowl, combine the flour, baking powder, baking soda, and salt.
In a separate bowl, beat together the brown sugar and the melted butter. Add the egg and vanilla. Beat to combine.
Stir the flour mixture into the butter mixture. Before completely combined, add the white chocolate chips and the nuts (reserving about a Tblspn of the nuts to sprinkle on top). Pour batter into pan and sprinkle with remaining nuts. Also sprinkle the batter with more coarse sea salt.
Bake for 20 to 25 minutes. Let cool for 10 minute and then remove the blondies using the parchment sling to allow to cool completely on a wire rack. Enjoy as is or warmed up with ice cream on top!