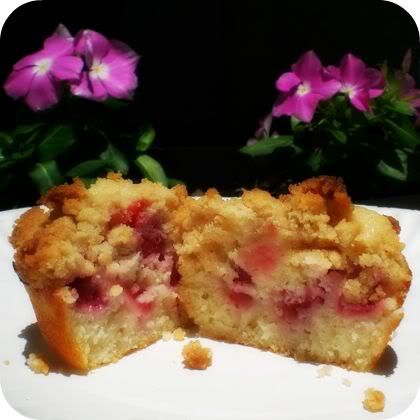 I'm glad that SMS is not very demanding and only requires you to, at a minimum, participate once a month. Unfortunately, this will be my first time not participating for two weeks straight! I know, I'm terrible! I'll be up and running again soon, I promise. I haven't forgotten about you SMS, life is just getting in the way right now! For now, I leave you with a recipe I promised you a long time ago, that a reader just reminded me I never posted (Thanks, Linda!)
Way back when I was entering my muffin recipe into the Mimi's Cafe contest, I promised that I'd post the recipe I came up with in the future. Well, here it is - sorry it took so long, it completely escaped my mind!
Strawberry Shortcake Crumb Muffins


Ingredients:
1 3/4 C all purpose flour
1/4 C cornstarch
1/2 C sugar
2 tsp baking powder
1/2 tsp salt
1 C buttermilk
1 egg
1/2 tsp vanilla
1/4 C butter, melted
10 strawberries, washed, dried & sliced
3/4 stick unsalted butter, melted
1/4 C packed light brown sugar
1/4 C granulated white sugar
1/4 tsp cinnamon
1 C + 1 tblspn flour (+extra if needed)
Muffins:
1. Grease & flour a standard muffin/cupcake pan. Preheat the oven to 425F.
2. Whisk together flour, cornstarch, sugar, baking powder & salt, & set aside. In another small bowl combine the melted butter, buttermilk, vanilla & beaten egg. Stir in to the flour mixture. Stir just to incorporate, do not overmix - it will be lumpy.
3. Pour into the muffin pan, filling each cup about 2/3 full. Gently insert the strawberry slices into the batter so that they are vertical (they will stand up and down in the batter).
Sprinkle with crumb topping.
4. Bake 15 - 18 minutes, or until the crumb topping is browned, and a toothpick inserted into the muffin comes out clean with only moist crumbs.
Crumb:
1. Whisk together the butter, sugars, cinnamon and salt until smooth.
2. Stir in the flour with a whisk, then stir with a butter knife to create the crumbly texture. Add more flour as needed to create the correct crumb size.
3. Sprinkle on to muffin tops - crumb topping with dry up and crisp in the oven.