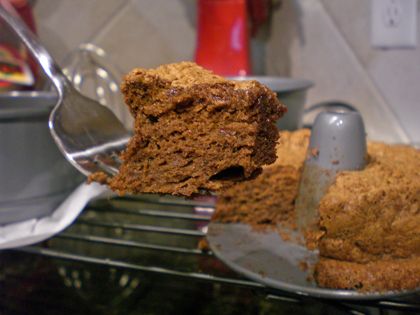 This week, the sweet Sarah of
Blue Ridge Baker
chose our recipe: Fallen Chocolate Souffle Cake from the Sweet Melissa Baking Book. I was pretty excited to make this one, as I'd never done any sort of souffle anything before. Half way through making it, I realized how crazy it is that this cake doesn't need any flour at all! Ahh, the power of egg whites.
Overall, this was very easy to put together. It went very quickly and was rather painless. I halved the recipe and baked up the batter in 2 mini-bundts + 2 mini springform pans. I made only slight variations to change this Chocolate Fallen Souffle Cake into a Chocolate-PEANUT BUTTER Fallen Souffle Cake:
Adaptations
:
I Halved the recipe and made some changes
:
5 ounces ghirardelli semi-sweet chocolate
+ Approx 1 - 1.5 ounces Reese's Peanut Butter Chips
*Omitted Orange Zest
*Reduce the amount of Grand Marnier by a smidge. (Used about 1 teaspoon)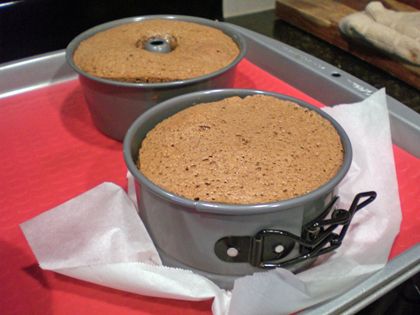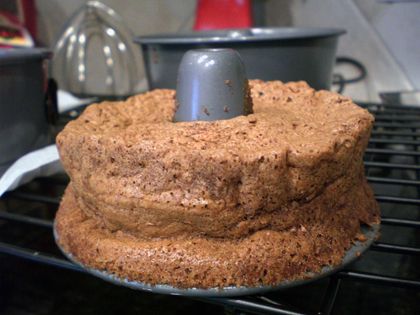 The result was quite nice. The peanut butter flavor was a nice addition. The cake came out almost like a rich, chocolate sponge brownie... if that makes any sense. It has the rich chocolately moist-ness of a brownie, but was light like sponge cake. Yum! Can't wait to try this with ice cream later. :) Be sure to see how the
other SMS bakers'
Souffle Cakes baked up!!! And see
Sarah's
wonderful blog for the recipe. Cheers! And happy Labor Day!!