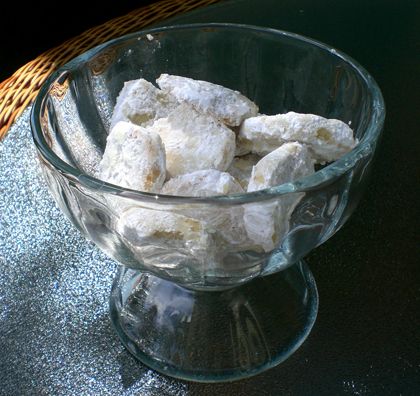 Sorry I missed last week's Sweet Melissa Sundays! I am quite the busy girl right now. First, I wanted to show you all the new website we have for the aprons, Woo!
Check it out here
! Right now, the site up is just a temporary one until we really figure out what we want to do there, but I just thought I would share it with you. What do you think??
Last week, I had a few moments to kill. The week's homework was done already, so I thought I would whip up a batch of cookie's I've had bookmarked for about 989 years. We had some key limes sitting around on the counter, so I figured I'd put em to good use in this Martha Stewart recipe (which ALL user comments raved about, by the way...always a good indicator for me). I made some slight adaptations because I wanted to use Key Limes instead of regular ol' lime, and I really them wanted to pack a limey punch.
These came out really really good. We tried one about a half hour after they came out of the oven, and they were totally disgusting. Totally. I think the combo of sweet, lime, and WARM but a Baddd, Badd combo. It was too tart, and honestly was just really weird. I feared I'd have to toss the whole batch. But a second taste test the next day fixed all that - it seems they just needed some time to relax before they'd become yummy. These are perfectly sweet, limey, and crumbly. I can't imagine any lime lover not enjoying these.
here
is the original, and below is my adapted version.
Key Lime Meltaways
, adapted from Martha Stewart's
Lime Meltaways
Ingredients
:
1 1/2 sticks) unsalted butter, room temperature
1/3 cup confectioners' sugar + Extra for rolling cookies in
Grated zest of 4 Key Limes
3 - 4 tablespoons freshly squeezed key lime juice
1 tablespoon pure vanilla extract
1 3/4 cups plus 2 tablespoons all-purpose flour
2 tablespoons cornstarch
1/4 teaspoon Sea salt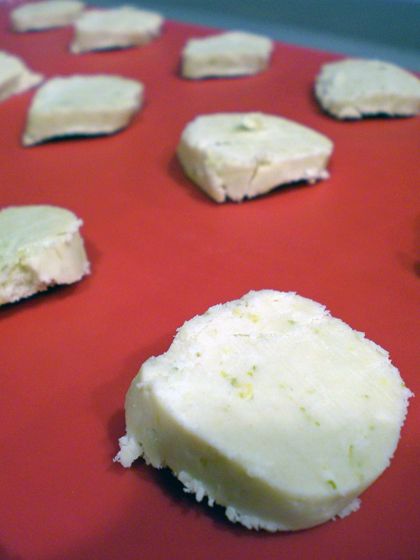 Yummm, flecks of key lime zest
Directions
:
In the bowl of an electric mixer, cream butter and 1/3 cup of the powdered sugar until fluffy. Add the key lime zest, juice, and vanilla; beat until fluffy. In a separate bowl, whisk together flour, cornstarch, and salt. Add this to the butter mixture, and beat on low until combined. Between two pieces of parchment paper, roll dough into two 1 to 1 1/4-inch-diameter logs. Chill at least 1 hour. (I chilled mine for
a few days
...I told you I've been busy! The dough was just fine)
Preheat oven to 350 degrees. Line two baking sheets with parchment or silicone baking mat. Fill a small to medium sized zippy bag about half way with powdered sugar. Remove parchment from logs; slice dough into 1/8-inch-thick rounds (I find it easy to slice the dough with thread - just wrap it around the log, tie a knot, and pull tight to cut a slice). Place the cut rounds on baking sheets, spaced 1 inch apart (AND DON'T MAKE THE MISTAKE I DID WITH THE FIRST TWO COOKIES... for some reason, my sleepy brain tossed them in sugar BEFORE baking... they actually came out pretty normal. But it's much easier to toss them after they're baked, hehe :)
Bake about 15 minutes, or until barely golden at the edges and sides. Transfer cookies to a wire rack to cool slightly, 8 to 10 minutes. While still warm, place cookies in the sugar bag; shake the bag to coat. Store baked cookies in an airtight container for up to 2 weeks.