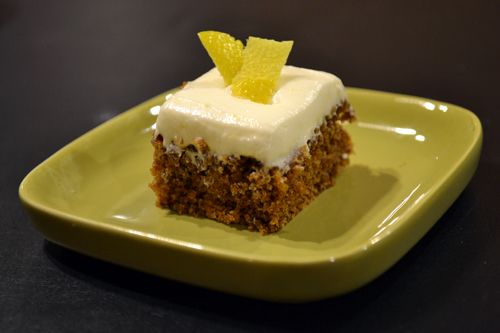 Around this time of year about 5 or 6 years ago, a neighbor brought over a platter of homemade petit fours for the holidays. It had a few different flavors of cake cut into adorable little squares, each topped with a different type of frosting. I can't remember anything that was on that platter besides one: gingerbread cake with lemon frosting. I only ate one of the tiny one inch cake bites, but it was so good I still remember it to this day.
When I got word of Hodgson Mill's holiday recipe contest, "Have a Grain Holiday!" I felt short on good ideas. I tried out a few different recipes using both their Bread Flour and their Whole Wheat flour but I wasn't thrilled with anything. Finally, I thought about those gingerbread cake bites and I started trying to make my own version of the bite sized dessert. I don't know how these would compare to those little bites from a few years ago, but these are pretty delicious. The gingerbread cake is spicy and moist, and the tangy lemon frosting serves is a nice complement. Plus, since it uses Hodgson Mill's Whole Wheat Graham flour,
it is nutritious, too. With this type of flour, "the entire natural bran and germ are stone ground, preserving all of the grain's natural nutrients and great taste, with no artificial colors, flavors, or preservatives."
Gingerbread Cake Bites with Lemon Frosting, serving size: 40-50 bite sized squares.
Preparation time: approximately 2 hours
Ingredients:
1 ½
cups Hodgson Mill Whole Wheat flour
¾ stick of unsalted butter (6 Tablespoons), room temperature
2/3 cup brown sugar packed
½
teaspoon pure vanilla extract
For the Gingerbread Cake:
Spray a 9 x 13 pan with nonstick spray and line with parchment paper and preheat the oven to 325 F.
Mix the flour, cornstarch, baking powder, soda, salt, spices and pepper together and set aside.
In the bowl of an electric mixer, cream the butter. Gradually add the brown sugar and cream thoroughly. Beat in molasses and corn syrup.
In a separate bowl, beat the egg until foamy. Then, add it to the butter mixture. Stir in the vanilla.
Add the dry ingredients to the creamed mixture and mix just until combined, being careful not to overbeat.
Slowly, pour in the boiling water and the milk. Mixture will be very runny. Pour the mixture into the prepared pan and spread with a spatula.
Bake for about 30-35 minutes or until a cake tester comes out clean. Allow to cool all the way, and then chill in the refrigerator.
For the Lemon Frosting:
2 sticks unsalted butter, softened
zest from ½ a large lemon
juice from ½ a large lemon
1/2 teaspoon pure vanilla extract
Lemon peel for garnish, optional
In the bowl of an electric mixer, cream the butter until light and fluffy. Add the zest and vanilla. Slowly add the powdered sugar. Add the lemon juice and beat on medium-high for 5 minutes. When the cake is chilled and slightly firm to the touch, spread the frosting on the cake with an offset spatula. Using a pizza cutter, cute the cake into small squares. If desired, top each square with a small strip of lemon zest to garnish.