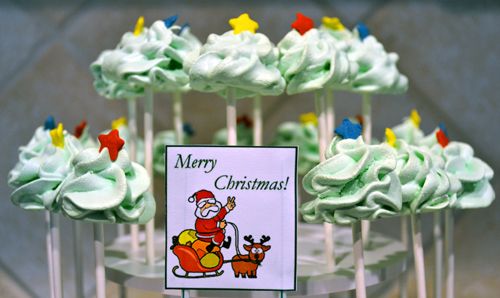 Need an idea for a very quick, unique Christmas dessert? Our Round Cake Pop Stand turned these simple little meringue bites into an impressive Christmas display. All it is is a simple meringue piped into a tree shape using a star tip. The tree is topped with an edible star decoration and they're baked. Voila! I'll bet the Christmas parties you're going to haven't seen a meringue pop display like this one :)
I recommend inserting the lollipop stick while the meringues are still warm (and haven't hardened all the way) to make your life a lot easier.
Christmas Tree Meringue Pops, from adapted from Penguin Says Feed Me
Ingredients:
2 egg whites
125 grams granulated sugar
A pinch of vanilla extract
Green food coloring
Star shaped edible decorations
Lollipop Sticks
Round Cake Pop Stand
Preheat oven to 250 F.
Beat egg whites until soft peaks form. Add in the vanilla and beat to incorporate.
Gradually, while beating, add the sugar until glossy, firm peaks form. Once the sugar has been incorporated, add the green food colouring until the desired colour is achieved.
Scoop the meringue mixture into a piping bag fitted with a star tip. Pipe dollops of meringue onto parchment lined cookie sheets, keeping the bases of the trees a little over the size of a quarter. Press a star decoration into the top of the meringue tree.
Bake for 35 - 40 minutes. While meringues are still warm, use a clean awl to gently make a hole in the bottom of the meringue. Be careful! These guys can crack. Insert stick in the hole and put the stick on the Cake Pop Stand.
Check out this video of Daniel, the piping expert, making some meringue Christmas trees: