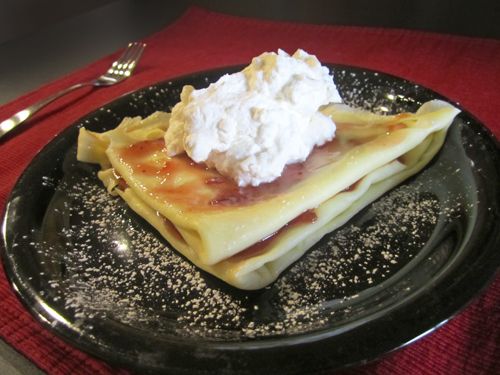 My very first crepe experience was in Greece. I know crepes are a French thing but there were crepe shops all over the place in all of the Greek cities we visited. We tried them in a few cities there and they were all delicious.
My wonderful fiancee enjoying a crepe in Corfu
I made the recipe word for word from the Sweet Melissa book and it came together perfectly. And it was a cinch to make! Very few ingredients and it all goes in a blender. The swirling in the pan is what gave us some difficulty...
We used a 12 inch pan just as the book says, but we have a very hard time getting it to swirl across the whole pan without leaving holes.
We gradually got a little bit better as we made more, but I halved the recipe and only got about 6 crepes, so by the time we started improving our technique we were out of batter.
When we got to the end, we wanted a nice looking crepe so badly that we took a circle cookie cutter and cut it:
It made one itsy bitsy little crepe! The butter is there for scale :) It was a one-bite crepe.
Even if they weren't perfect looking, when spread with a little bit of strawberry jam and topped with homemade whipped cream, they were pretty tasty. However, I did think the crepes themselves were a little on the bland side. The jam and cream is what gave it all of the flavor. Next time I might try adding a little bit of vanilla or almond extract?
Thanks for picking this recipe Jaime! See Jaime's blog, Good Eats and Sweet Treats for the recipe or buy the Sweet Melissa baking book for all of the recipes. Jaime, this made for a very lovely Sunday morning breakfast. :) Be sure to visit the other participating SMS-ers blogs to see how their "French Pancakes" came out!