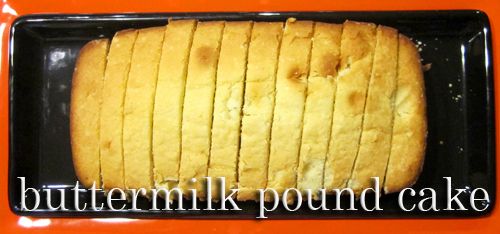 Desserts don't always have to be elaborate or complicated. Sometimes classics like a good vanilla pound cake are enough to make everyone happy. Who doesn't like pound cake? This pound cake is just right - not too dry, not too moist; not too light, not too dense. It's right in between, and perfect when served with a scoop of your favorite ice cream on top.
Buttermilk Pound Cake
adapted from Alton Brown
Ingredients: *the measurements below are by weight, not volume
6 ounces unsalted butter, softened (+ more for greasing pan)
8 ounces* cake flour
8 ounces* sugar
2 large eggs, room temp
1/2 tsp vanilla extract
1/8 tsp almond extract (optional)
1/4 tsp fine sea salt
1/2 cup buttermilk, well shaken
Preheat to 375 F. Grease a loaf pan
with butter and coat in flour
(I used a 9x5x3 loaf pan but a 8.5x4.5x2.5 would be ok)
.
In the bowl of an electric mixer, cream the butter and sugar together on medium until mixture is very fluffy and very light in color (about 6 minutes!). With mixer on low, add eggs one at a time. Mix for 1.5 minutes. Add vanilla and salt and continue to beat for 30 seconds.
With mixer on low, add flour and buttermilk alternately, beginning and ending with flour. After the last of the flour is added, beat for 30 seconds on medium.
Spread batter into the prepared loaf pan and smooth it out using a spatula. Bake for 35-40 minutes or until the crust is golden brown and a toothpick inserted into the center comes out clean. Allow to cool in the pan on a rack for 10 minutes and then invert and remove from the pan to cool completely on a wire rack.