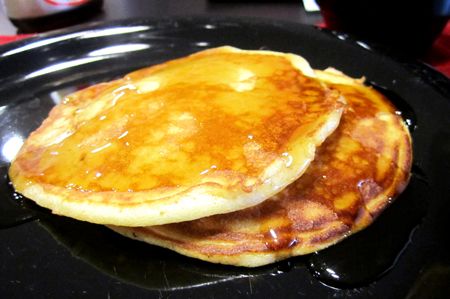 For last week's Lemon Blueberry Buttermilk Pie, I bought the smallest size of buttermilk the grocery store had to offer, but I still had quite a bit leftover with nothing to do with it. So what do you do when you have extra buttermilk on a Sunday morning? Make buttermilk pancakes of course. I used Aida Mollenkamp's recipe for Cakey Buttermilk Pancakes and I think I've found a new favorite pancake recipe. No other from scratch pancake recipe I've prepared has come out this good. Plus, you can prepare it the night before, re-stir it in the morning and pour it on your hot griddle for ready-to-eat pancakes in minutes. Sunday morning breakfast heaven.
5/8 C all purpose flour

5/8 C

well shaken buttermilk

1/4 C melted unsalted butter (plus more for greasing the griddle)

1 large egg, room temperature

1 tablespoon granulated sugar

1/2 teaspoon sea salt

1/2 teaspoon baking soda

1/2 teaspoon baking powder
In a medium bowl, whisk all ingredients together until combined and moistened thoroughly (some small lumps remaining are ok). Cover and store in the refrigerator to rest up to 12 hours before using. Right before using, stir briefly before using to loosen it up a bit - batter will have thickened up during rest time.
Heat a griddle over medium heat. Melt 1 tablespoon butter on the griddle. Being generous with the butter is what gives them their slightly crispy exterior. Pour 1/4 cup batter for each pancake and cook until bubbles cover the top, about 3 minutes. Flip and cook until golden brown, another 1 minute. Repeat with remaining batter. Serve immediately with maple syrup, powdered sugar, whipped cream, fresh fruit or anything else you can possibly think of.