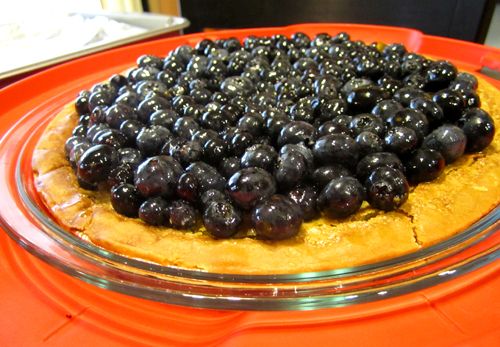 This week, Melissa of Lulu the Baker selected Lemon Blueberry Buttermilk Pie as the recipe for Sweet Melissa Sundays. Thanks for picking this recipe, Melissa! This was a fun one. I don't think I'd ever made a buttermilk pie before!
I prepared this recipe exactly as Melissa Murphy says in the Sweet Melissa Baking Book - no substitutions and alterations! In fact, it was the first time I baked with actual buttermilk instead of substituting buttermilk powder. It was almost a success! (and the buttermilk pancakes that were the result of having left over buttermilk were VERY much a success... I think I may have found a new favorite pancake recipe!
M
ore on that later!
) I simply decreased the amount of blueberries for the topping to 12 ounces because I thought 1.5 pints was a bit of overkill.
Everything went very well, though there was a significant amount of clear liquid (butter maybe?) flowing out of the pie and onto the cookie sheet during the last minutes in the oven. And I think the liquid made the crust a bit too soggy, because it wouldn't come out of the pie plate! It did wind up being quite a mess, but it was a DELICIOUS mess. Everyone enjoyed it at dinner tonight!
Thanks for hosting, Melissa! I liked this one quite a bit. Go to Melissa's blog Lulu the Baker for the recipe. And be sure to visit the list of this week's participants to see if the other bakers had a less messy experience than I did!