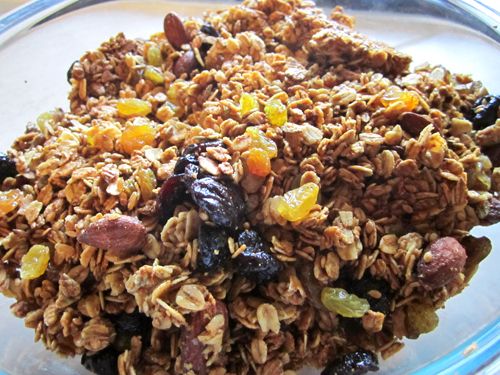 When SMS was still pretty new, we made Melissa Murphy's
Granola Breakfast Cookies
. When I made this granola for those cookies, I scaled the recipe down considerably and made quite a few substitutions. This time around, I stuck to Melissa's original recipe much more closely. I only left out the dates, and I added a little bit of flaxseed (about 1/2 cup).
It was hot here in Florida yesterday. Since it was really too hot to be outside, we tried to stay indoors most of the day. But for those few minutes that we were outside, it felt like we were standing inside a preheated oven. There was no breeze, not even a slight one so all we could feel was the heat. Whew! But if you took a step inside my house, you'd think it was the middle of fall judging by the smell coming out of the kitchen. The Granola with ginger, allspice, nutmeg, cinnamon and cloves, maple syrup and honey browning slowly in the oven let out the most delicious autumny smell. I wish I could have taken a picture of the smell! And the taste of the final product was delicious, too. Not too sweet, and not too spicy.
Thanks so much for picking this recipe and hosting this week, Wendy! I'm sure the recipients of my little granola gift packages will want to thank you! Check out Wendy's blog,
Pink Stripes
, for the
recipe
. And
click here to see the list
of this week's SMS participants.