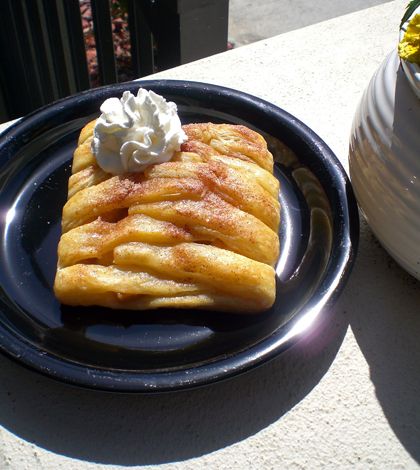 Sorry, I won't be making this week's recipe, the Pavlova Peach Melba for Sweet Melissa Sundays this week. I'm sorry
Patty
! Though it sounds delicious to me, I'm afraid it just wouldn't go over well in this house. Since I didn't have a chance to participate last week and I
really
wanted to make the Caramel Apple Pie, I decided to make that instead, but with a twist. I used
Spike
's idea and made a sort of pastry instead of an entire pie. Thanks for the idea,
Spike
'!
I also wanted to scale it down, so I used only 2 apples. I prepped the apples as the recipe stated, but added cinnamon to the mix and did a quicky version for the caramel sauce. Instead of making it from scratch, I used store bought caramel sauce. And since I was making it in puff pastry instead of pie form, it would require a lot less baking time, so I had to pre-bake my apple filling. I put the apple slices and caramel sauce in a glass dish, covered it in tin foil. I did 350 degrees for 30 minutes.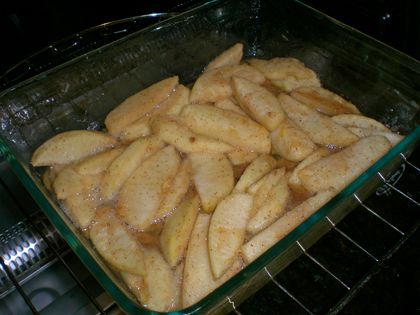 As that was baking, I was prepping the puff pastry: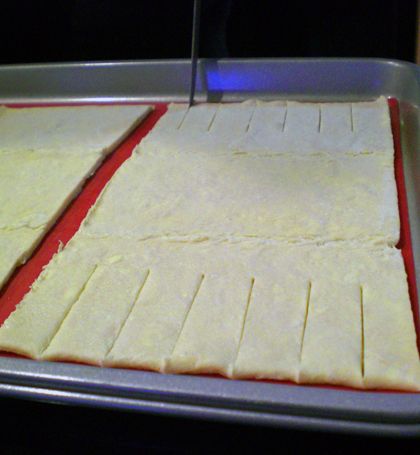 I cut four sheets of puff pastry to about 4.5 inches by 8 inches, and cut slits on either side.
Then, I spooned some of the filling into the center of each sheet: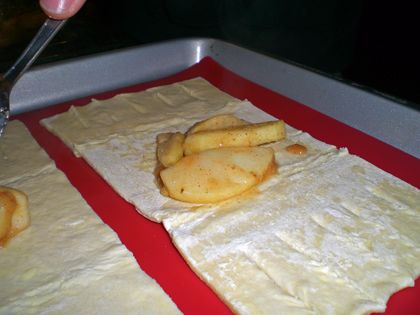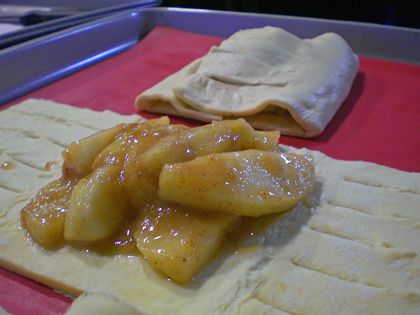 Then, you close up the pastries. Either lay them on top of each other, or sort of braid them: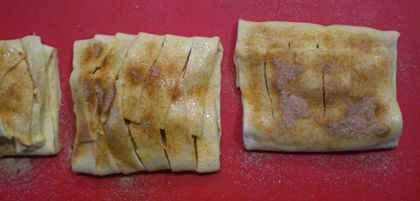 Brush them with egg wash and sprinkle with cinnamon sugar.
After about 25 - 35 minutes in the oven at 350, VOILA: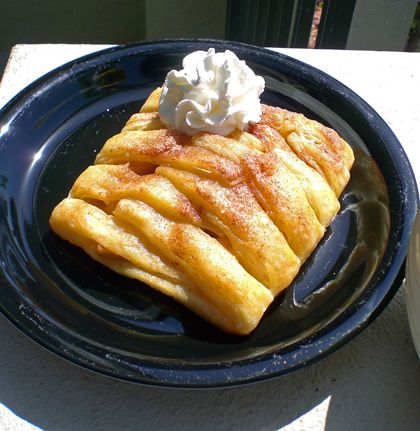 Very, very good. Delicious warm, fresh from the oven, and I'd say, they're even better the next day warmed in the microwave for a few seconds.
Click
here
for the SMS post on Double Crusted Caramel Apple Pie, and
here
to visit
Patty's
blog, Birding Blossoms and Baking, to see this week's choice, the Pavlova Peach Melba. And be sure to check out the
blog roll
and see how these treats came out for the other SMS bakers!