I'm always up for trying a new chocolate chip cookie recipe. So when our craving for cookies came the other night, I went in search of a recipe that sounded
quick and easy
. That's where these cookies from
Cookie Madness
. They're made with Olive Oil instead of butter (perfect, no waiting for butter to soften!) and can be done in one-bowl (easy clean-up!). Anna of Cookie Madness called the
"Thick dense and hearty"
cookies, "No-brainers" that Sounds perfect to me! I prepared the recipe
entirely in the food processor
because I was feeling particularly lazy and wanted to get as few things dirty as possible.
I only slightly changed the recipe, but I will post my changes below... Be sure to check out Anna's original post of the cookies
HERE
.
Olive Oil Chocolate Chip Cookies
Makes about 14 - 17 cookies.
Ingredients
:
*2/3 cup packed light brown sugar
*1/3 cup Olive oil
*1 tsp vanilla
*1 large egg
*1 teaspoon baking powder
*a heading 1/4 teaspoon sea salt
*1 cup AP flour
*1/2 cup oats (old fashioned or quick) – ground in the food processor
*2 heaping tblspns jumbo bittersweet chocolate chips
*2 heading tblspns hershey's special dark chocolate chunks
Anna's recipe called for: "2-3 oz (56-85 grams) dark chocolate, cut into chunks" but I always like to cut back on the chocolate in chocolate chip cookies because Dan isn't a big fan... plus I wanted to use a mix of dark chocolate (my fave) and bittersweet (Dan's fave) so thanks to my super-handy-dandy APRON I converted 1 oz to Two Tablespoons... and used: Two heaping tablespoons of each type of chocolate in my recipe
... a little over one ounce of each.
*2 heaping tablespoons pecans (I scaled this back a bit too as we're not huge nut people)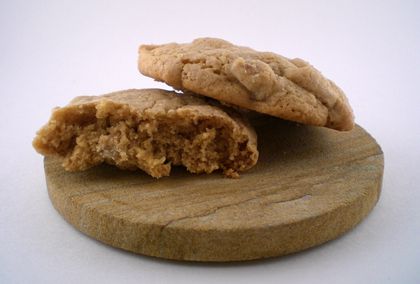 Preheat to 350 degrees F. Line a cookie sheet with parchment or a silicone mat.
Grind the oats up in the food processor using the steel chopping blade. When chopped to the desired fine-ness (is that a word?) put in a small bowl. Add the flour, salt, and baking powder to the oats and mix to combine. Set aside.
Mix together the brown sugar, oil, vanilla and egg in the food processor using the dough blade. Add in the flour/oats mixture and blend until combined. Add the chocolate chips and nuts and stir with a spoon.
Using a 1 tablespoons cookie scoop, place dough onto cookie sheets, about 2 inches apart. When baked on the silicone mats, these didn't spread or flatten very much - they spread a little bit more so on the parchment but not considerably. Bake for 11-14 minutes. Cookies are done when edges are slightly golden.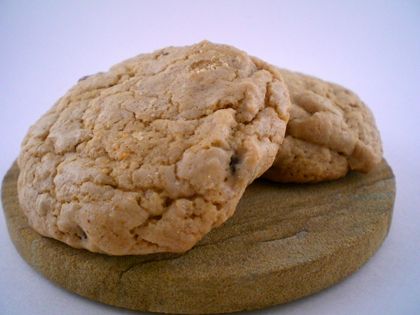 The results? A super duper fast and easy recipe that yielded
really
great results (I mean, they were
all
gone in 3). A great recipe when you're really craving homemade cookies, you want 'em FAST, and you're feeling lazy. :)