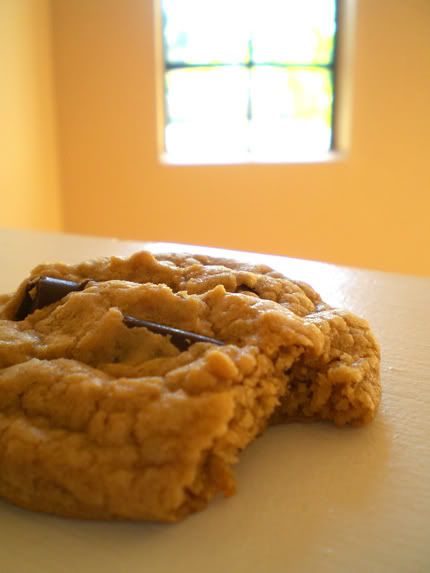 Just like almost everyone else, no matter how many delicious chocolate chip cookie recipes I try and bake, I'll never settle on my top #1 All Time Favorite. Whenever I see a new recipe that looks particularly good, I bookmark it for later use. Many of the recipes I've used have come out incredibly well, but for some reason, I will always keep trying new ones. There is no real loss, even the inferior recipes are still homemade chocolate chip cookies that are all warm and gooey straight out of the oven. So, here I go again. This time, I used Cooksillustrated.com's recipe for
"Thick and Chewy Chocolate Chip Cookies,"
published January 1, 1996. This recipe came out very very good. Exactly as the recipe states, 'thick and chewy'. A definite would-make-again!!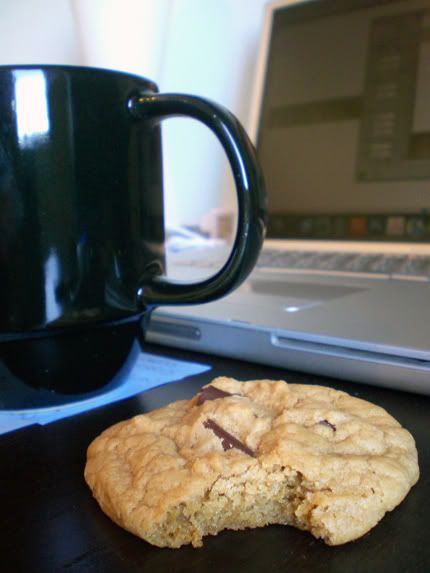 This is how most of our cookies are eaten... by Daniel, for breakfast, with coffee, at the computer. Busy busy!
CI's Thick and Chewy Chocolate Chip Cookies
, from Recipezaar.com
Ingredients
:
2 1/8 C All Purpose Flour
1/2 teaspoon fine sea salt
1/2 teaspoon baking soda
1 1/2 sticks unsalted butter, melted and let cool for about 10 - 15 minutes
1 Cup dark brown sugar
1/2 C granulated sugar
1 teaspoon malted milk powder
1 large egg
1 large egg yolk
2 teaspoons vanilla extract
3/4 cup semisweet chocolate chunks
Directions
:
Preheat to 325. Move racks in the oven to top third and lower third (or "upper and lower middle positions")**<--[[See note on rack position in the last step of the directions]]. Mix flour, salt, malt powder, and baking soda together in medium bowl; set aside.
With a wooden spoon, mix butter and sugars until thoroughly blended. Mix in egg, yolk, and vanilla. Add dry ingredients; mix until just combined. Stir in chocolate chunks.
Use a 1 tablespoon measuring spoon, and create heaping 2 tablespoon dough balls. Hold the dough ball in the fingertips of both hands and pull apart into two equal halves. Rotate each piece 90 degrees so that the jagged edge faces up. Jam the halves back together into one ball so that the top surface remains jagged. Place formed dough onto parchment paper-lined cookie sheet.
Bake, reversing cookie sheets' positions halfway through baking (
**The cookie sheet of mine that began on the bottom third came out better. There was much less spreading, and they stayed thicker. In the future, I would just cook them beginning on the bottom third**
) , until cookies are light golden brown and outer edges start to harden yet centers are still soft and puffy, 15 to 18 minutes (start checking at 13 minutes). Cool cookies
on cookie sheets
.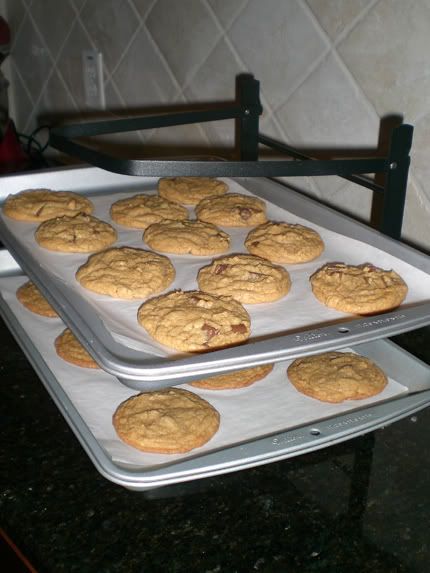 The recipe said, "To ensure a chewy texture, leave the cookies on the cookie sheet to cool." So, I was finally able to use my three tired cooling rack from Christmas, yey!