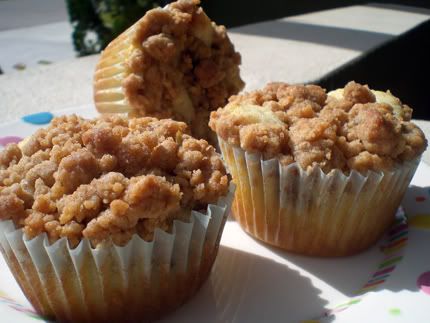 Coffee cake. Delicious, simple, a classic. I love coffee cake, Daniel
loves
coffee cake. I wonder why I hadn't made it in so long! I had some time on my hands to kill the other morning, so I decided to make some so Dan could bring them to work for breakfast. I'm so nice, right? I had a recipe that I made quite a bit a few years ago, but since I like trying new ones out, I searched
Food Network
and
Epicurious
for a Coffee Cake recipe with a high rating and tons of good reviews. Finally I came across
this one
and decided to go with it. I only made minor changes, included leaving out the jammy swirl (sometimes, you shouldn't mess with a classic) and baking it in a cupcake pan to make little individual Coffee Cupcakes instead of one big one. Perfect for grab-and-go with your coffee in the morning!
They came out wonderful. The crumby topping, Dan's favorite part, was perfect. And the cake was moist, and not too sweet - perfect for first thing in the A.M. A definite would-make-again. Below is the recipe with my alterations.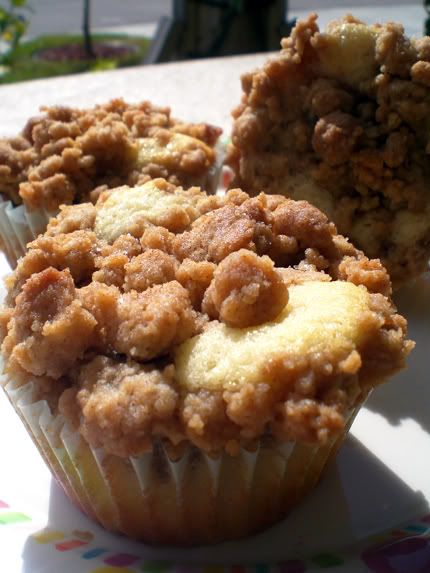 Individual Mini Coffee Cakes
from
Epicurious
Cake Ingredients
1 C flour
1/2 C Sugar
1 3/4 Tsp baking powder
3/4 stick salted butter, melted
Pinch of salt (if using unsalted butter, up this to 1/4 tsp)
1/2 C Milk
1 large egg, room temperature
Crumb Topping Ingredients
3/4 stick salted butter, melted
1/4 C packed dark brown sugar
1/4 C granulated sugar
3/4 tsp cinnamon
1 C + 1 tablespoon flour (+ extra if needed)
Cinnamon Sugar
Cake
:
Preheat oven to 390. Put paper liners in 11 cupcake wells in a cupcake pan.
Whisk together flour, sugar, baking powder, and salt.
Whisk together butter, milk, and egg in a large bowl. When combined, whisk in flour mixture until just combined - batter will be lumpy. Pour batter into the liners of a cupcake pan until ~ 2/3 - 1/2 full.
Crumbies
:
Whisk together butter, sugars, cinnamon, and salt until smooth.
Stir in flour with whisk, then stir through with a butter knife to create crumbies. Add more flour as needed to get a crumby texture. The crumbs will crisp up and dry out in the oven. Sprinkle crumbs over top of mini cakes, and LOAD 'EM UP - the crumbs are the best part! Sprinkle cinnamon sugar over the top of the crumbs and the top of the muffins/cakes.
Bake cake until a wooden pick inserted in center comes out clean, ~ 17 - 22 minutes. Cool in pan on a wire rack 5 minutes, then remove the cupcakes from the pan and let cool completely on the wire rack.