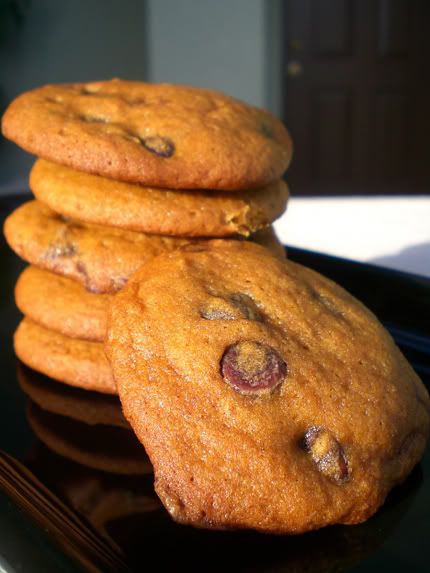 Okay, so I know it's a little late in the season for Pumpkin, but I think it's tasty any time of year. I was hesitant to do a George Duran recipe just because I tend to stick with recipes from my favorite Food Network chefs when I'm getting a recipe from FN's website, but the high rating and loads of great reviews changed that... and I'm glad! These are delicious. They are a pumpkinny hybrid of chocolate chip cookies with the texture of a muffin top (quite an accurate comparison I got from Dan's sister). Lightly fall-spicey, complimented perfectly with the chocolate chips. Super soft, cakey, light, fluffy, and moist at the same time. I certainly agree with their 5 star rating. The only changes I made to the recipe was scaling it down... below is my version: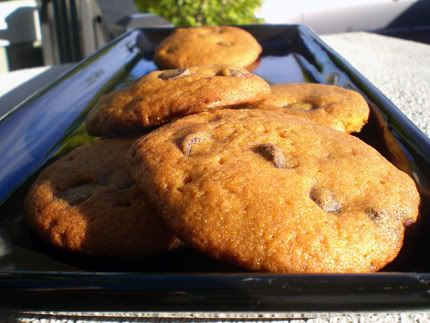 Pumpkin Chocolate Chip Cookies
from
Food Network & George Duran
Ingredients
:
1 stick unsalted butter, softened
1/2 C granulated sugar
1/2 C light brown sugar
1 Large Egg
1/2 tsp vanilla
1/2 C canned pumpkin puree
1 1/2 C flour
1 tsp baking soda
1/4 tsp salt
1/2 tsp cinnamon
1/4 tsp ground ginger
1/8 tsp ground nutmeg
1/8 tsp ground cloves
3/4 C - 1 C (to taste)
milk
chocolate chips
Preheat to 350. Line cookie sheets with parchment paper.
Using an electric mixer, beat the butter. Add both sugars slowly, a little at a time, until mixture is light and fluffy. Beat in the egg. Then add the vanilla and pumpkin puree.
In a large bowl, combine flour, baking soda, salt, cinnamon, ginger, nutmeg, and cloves. Slowly add the flour mixture to the pumpkin batter in 3 parts. Stir in the chips.
Scoop the cookie dough by heaping tablespoons onto the prepared cookie sheets and bake for 15 to 20 minutes, or until the cookies are browned around the edges. Remove from the oven and let sit on cookie sheets for 2 minutes. Remove to wire racks to cool completely.