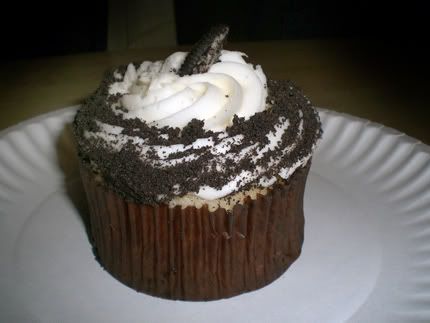 Until recently, I think I had been a bit ahead of the cupcake-game in the Central Florida area. In New York and LA, every turn you make you are met with another sweet shop, filling their cases with various cakelets topped with towering mounds of fluffy frosting. But here, not the case. For the most part, you can only find cupcakes mass-made at your local Publix... until recently, that is. On July 3rd, 2008
Sweet! By Good Golly Miss Holly
, cupcakery and frozen yogurtery, celebrated their opening in the Waterford Lakes Town Center in Orlando, right down the block from UCF. Since you get a free cupcake when you sign up for their mailing list, I had no excuse not to go check it out and do some "research".
Well, its an adorable little place. A minimalist, happy, cheerful interior. I walked up to the counter to check out what they had. They have "Breakfast Cupcakes," (muffins...
cute.
) "Original" cupcakes for $3, and slightly smaller "Classic" cupcakes for $2.50. They have a menu of certain cupcakes they feature every day, and other flavors that rotate daily. The friendly cupcake dude at the counter handed me my free Original Cookies and Cream cupcake and I went home to do the real experimentation... Eating it!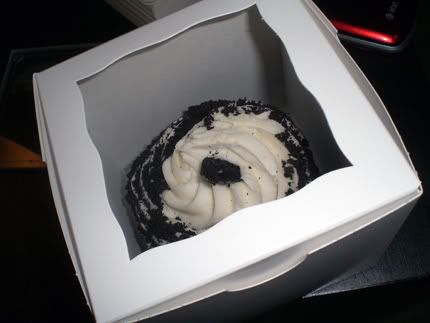 Its a pretty decent sized cupcake - more than enough for me and the boy to split. We cut it into 4 slices and prepared our very critical, cupcake-expert tastebuds. It was a very tasty cupcake - the cake part itself was very good. Moist, but not too moist, and held together very well. And the frosting? Also very good, but me and Daniel both agreed it tasted rather commercial, like it came out of a Betty Crocker can... which of course is delicious, but not what we were expecting. It even had the same thick-ish, dry, sturdier texture of frosting from a can. Not as wet and squishy as home-made frosting. (How DOES one achieve frosting with that kind of consistency with home-made frosting? If anyone knows of a recipe, let me know! I think stiffening my frosting consistency will be my next baking quest, so that they are better suited for transport home in a little take-out box. I'd love to achieve
that texture
frosting but with the
taste
of my home-made frosting.) Though, theirs is probably closer to the flavor of frosting people grew up knowing, as most parents probably didn't send cupcakes with home-made buttercream frosting to elementary school with their kids for their birthday. It just wasn't as "Gourmet" as we expected it to be.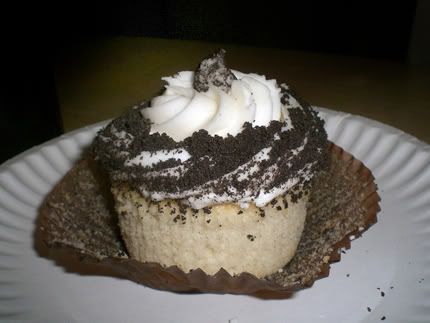 Not until the cupcake was 3/4 gone, did we realize that there was an ooey-gooey cookie-ish filling: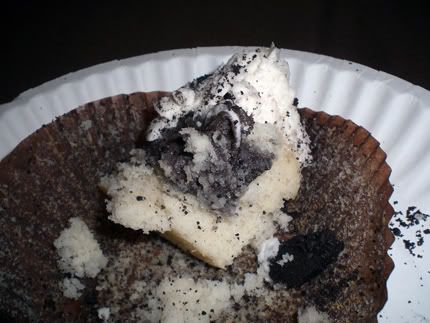 I apologize for the less than appetizing picture, but thats as good as I could get in a hurry (we wanted to finish eating it). So, overall it was a very good cupcake. Though Dan said he didn't really get a "cookies and cream" flavor from it. But I think I'll have to do some more "research" of the other flavors before I reach a final conclusion. :) That key lime cupcake
did
look quite good...