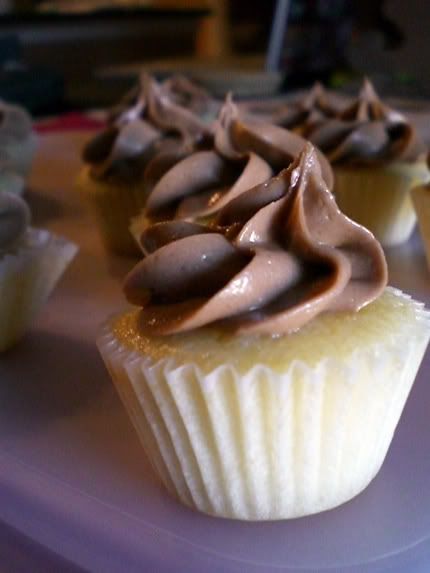 I'm back from my trip, and back in the blogosphere! The trip was beautiful. Venice, Bari, Olympia, Mykonos, Santorini, Athens, Croatia, and home. We had wonderful weather, tremendously enjoyable excursions, and outrageously good food. And now, we're back in the land of dollars instead of Euros, homework instead of guided tours, and peanut butter sandwiches instead of 6 course european meals. Ehh... its...good.. to be home? I'm joking. It was a great trip, but it is nice to be back in our house with our beloved puppy. Unfortunately, life is still chaotic and busy. Thesis deadlines are rapidly approaching and I need to continue doing some serious intensive work on it for the next few weeks. But, I still found time to make cupcakes.
This week's cupcake of the week, the
Banana Fluffernutter Cupcake
, is... really ugly. In my head, they looked quite adorable. Once executed, however, the cupcakes appearance proved to be less than cute. But oh well, they still taste good. I just don't know how well they will sell. This week's flavor combo was inspired by that amazing Fluffernutter sandwich from childhood, (or adulthood if you're a child at heart like me and still eat them) made from Peanut Butter and Marshmallow Fluff spread on bread. With the addition of banana, the flavor combo is a total winner. Banana cupcakes, topped with peanut butter frosting, and then some homemade marshmallow cream and crunchies for a garnish (an attempt to make them look a little less ugly... didn't help.)
Banana Fluffernutter Cupcakes
The Banana Cupcake recipe was the same one I used as
my Hound-dog Heaven cupcakes
, and the Peanut Butter Frosting is the same one I used
here in the Chocolate Peanut Butter Cup Cupcakes
(except this time I made the mistake of skipping the step of food processing the Peanut Butter... so it is much clumpier and MUCH drier...NOT cute). For the Marshmallow Cream frosting, I used
this Epicurious Recipe
scaled down.
Marshmallow Cream Frosting
Ingredients:
1/3 cup + 2 teaspoons white granulated sugar
1 Lg egg white
1/8 teaspoon Cream of tartar
2 tablespoons Water
1/2 teaspoon clear Vanilla extract
Tiny dash of salt
In large metal bowl, whisk together water, sugar, egg white, cream of tartar, and salt. Set bowl over pan of barely simmering water and mix with handheld electric mixer at low speed. Gradually increase speed to high, beating until mixture holds stiff peaks, about 5 minutes.
Transfer bowl from pan to folded kitchen towel on counter and continue beating until mixture is cool and billowy, about 2 minutes more. Beat in vanilla. Cool piped frosting on to cupcakes.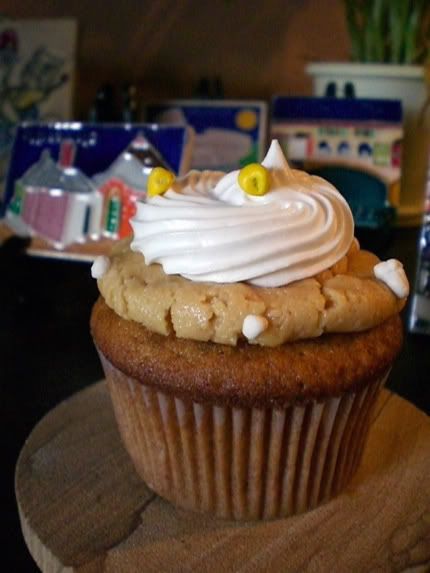 Ehh, I told you they were ugly. The marshmallow frosting was pretty easy to do, and had a great consistency for piping. Very much like marshmallow fluff. I will definitely use this recipe for frosting again.
BUT THATS NOT ALL.
That's right! There's a bonus recipe this week! Tonight, I have a little get-together with the girls from my Italy abroad trip. For the occasion, I whipped up some mini-vanilla cupcakes topped with nutella frosting, in honor of the delicious hazelnut spread we ate daily during our time abroad there. The cupcake recipe is
my usual one
, scaled down to 1/4 of the original, so that it only makes 24 mini-cupcakes (approximately 7 or 8 regular sized cupcakes). But its the frosting thats the star of these cupcakes.
Nutella Frosting
Ingredients:
2 tablespoons butter, softened
1/2 teaspoon vanilla
2 tablespoons nutella
1 1/2 cups of sifted confectioner's sugar
1 teaspoon cocoa powder
Little sprinkling of salt
4 teaspoons milk
In a small bowl, In a medium bowl, using an electric hand mixer, beat softened butter, nutella and vanilla until well mixed. In a small bowl, mix sugar, salt and cocoa powder until its thoroughly mixed. Gradually, add this dry mixture to the butter mixture, adding milk as needed to get a creamy frosting-like consistency.
I got JUSTTTT enough out of this to pipe frosting on to 24 mini-cupcakes. It is very, very good if you like nutella.