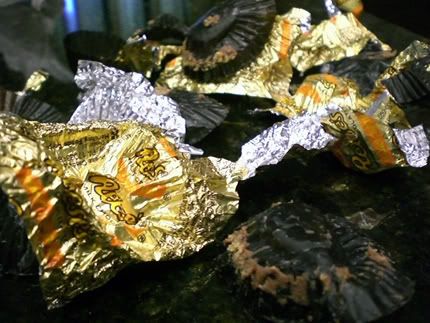 What's with all the candy wrappers? Is Stephanie having a meltdown? Is she doing some emotional bingeing?...No,
not yet
. The Reese's Wrappers are from my latest cupcake creation... or should I say
my latest cupcake disaster
?? It seems I've lost it! Last week's banana fluffernutter cupcakes were a little on the funny-lookin' side and this weeks? Well... you can see for yourself. The IDEA was to do something that combined these two ideas I found on the web...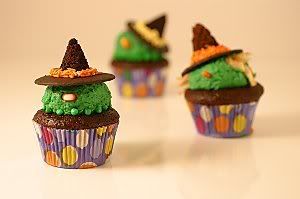 And...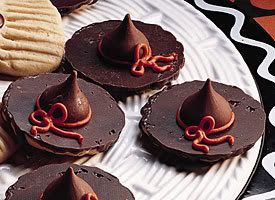 I was going to make little hershey kiss + cookie Witch hats, and put them on top of Green Witchy-Face frosting. I thought that maybe the Kiss + Cookie hat would be too heavy, so I added a Reese's Cup under the frosting for some structural support...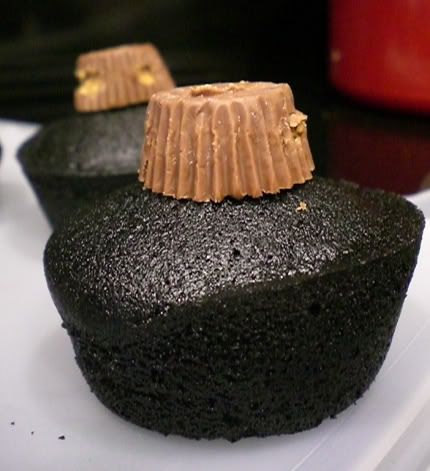 But, this is what Cupcakes turn out like when you are in a rush, and you've been running around various parts of the state since you woke up...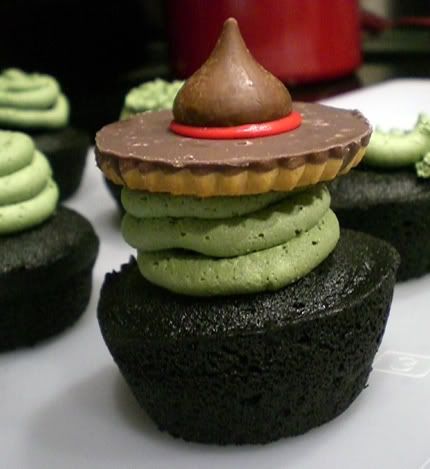 NNNNNNNNNNo. Not exactly what I was going for. My frosting was a little too stiff, and spirals was DEFINITELY not the way to go. Not to mention my "Witch Hats" look more like Sombrero's. ::Sigh::
Oh well... when life hands you lemons, make lemonade, right?
I took the little hats off and put them aside. They just were not gonna work. I took the frosting + hidden reese's cup and put them in my kitchenaid mixer. I mushed it with a fork, then blended it with the wire whisk. Result? A perfect creamy Peanut Butter cup filling!! And the Icky green color is perfectly ghoulish for halloween!!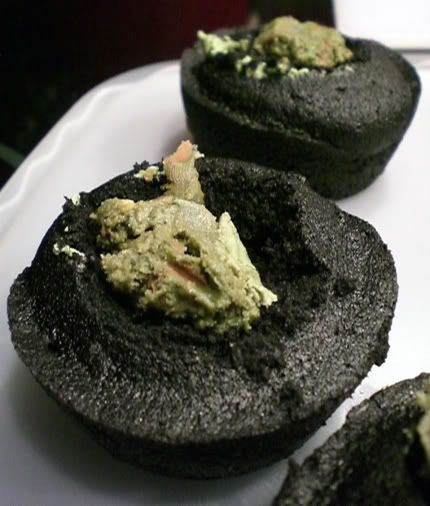 Yeah I know...
really
gross.
And luckily I had made some extra frosting, so I tinted it fluorescent orange, and VOILA. The Creepy Icky Green Halloweeny filling is perfectly until you bite into it. They're not exactly unique looking, but its better than throwing away an entire batch of ugly cupcakes! Plus, they taste pretty darn good.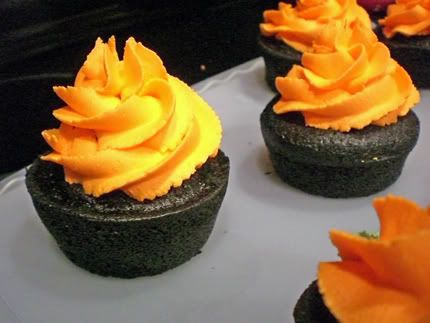 "Spooky Chocolate Buttermilk Cupcakes, Topped with Vanilla Buttercream and... Surprise! There's a Treat inside! Ghoulish Green Peanut Butter Cup Cream Filling!" :)
Chocolate Buttermilk Cupcakes
enough for a small batch of 7 regular sized cupcakes
from Billy's Reece's Chocolate Cupcake Recipe (I can't find it online anywhere, but this is
him
)
Ingredients
• 1/2 stick unsalted butter, softened
• 1/4 cup granulated sugar
• 1/4 cup brown sugar
• 1 large egg
• 1 1/2 ounces unsweetened chocolate, melted in double boiler and let to cool for 15 minutes
• 1/2 cup cake flour
• 1/4 teaspoon baking soda
• 1/4 cup buttermilk (room temperature)
• 1/4 teaspoon pure vanilla extract
• Optional black food coloring
Preheat to 350. Cream together butter and sugars. Add the egg and mix. Add the cooled melted chocolate and mix. Combine the flour with the baking soda in one small bowl, and combine the buttermilk and vanilla in another small bowl. Add this flour mixture to the wet mix alternately with the buttermilk mixture. Stir just until combined. If making black cupcakes like I did, add to the batter at the end. I needed about 1/4 ounce of black gel food coloring to achieve this color.
Bake in 350 degree oven for about 17-20 minutes. Let cool in cupcake tins for about 5 minutes, then remove to finish cooling on a wire rack.
Peanut Butter Cup Cream Filling
Ingredients
about 1/2 C - 3/4 C of the following buttercream frosting recipe
7 Reese's Peanut Butter Cups
Green and black food coloring
Mix it all up with a fork and/or a electric mixer, and fill middle of cupcakes.
Alternate Buttercream Recipe
(this is not my usual buttercream recipe... its a little stiffer)
1/2 c solid veg. shortening
1/2 c butter, soft
1 tsp vanilla extract (clear, if possible)
4 c sifted confectioner's sugar (~1lb)
Food coloring, if desired
*Cream shortening and butter.
*Add vanilla, mix well.
*Add sugar, one cup at a time, beating on medium speed. Scrape down side of bowl often.
*Add milk, beating at medium speed until icing is light and fluffy. Add coloring if desired.
Keep if refrigerator and rewhip before using (if not used immediately).
Makes 3 Cups.
More Halloween cupcakes to come...