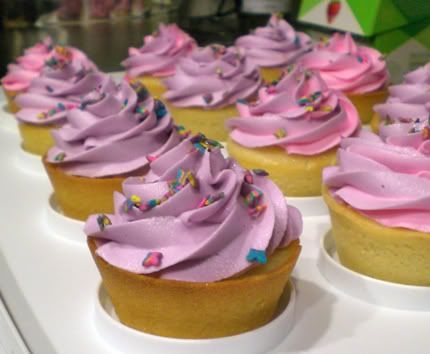 WHEW! Life is moving very quickly. My thesis writing is
thoroughly
under-way (thus the absence of posts). The rough drafts of my first two body sections are done, and the first half of the very detailed outline for my next section is done. I have to finish the rest of that outline, actually write the section, do the same for the last body section, write an intro and conclusion, format it to UCF and the binding company's specifications, make a notice of defense to be signed by my committee members, write a proposal and get that signed by my committee members, have an initial format review, a final format review, a proposal review and a slew of other requirements... All before early - mid November. Ah hah hah! It's ok, I'm surviving. At the end, I will have a nice little bound book, written by yours truly, with its own call number for the library and everything. So it's worth it... I think. :)
Anyways, so that is why you haven't been seeing many posts lately. It's sad. But as soon as this is over, I'll be back in the kitchen, whipping up some goodies to try to make my boyfriend fat again.
For now, I'll show you what I
have
been doing in the kitchen. No new recipes, though. Mi dispiace, not yet.
Last week, I had to do 25 cupcakes for birthday parties (woohoo!!). Luckily, all three parties wanted to same color combination, so it went rather swimmingly. All three little girls wanted pink and purple, so I started by making these cupcakes a little extra-special by putting pink heart shaped sprinkles right in to the batter: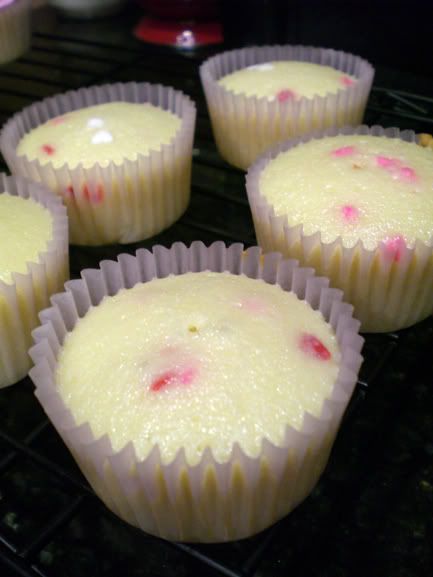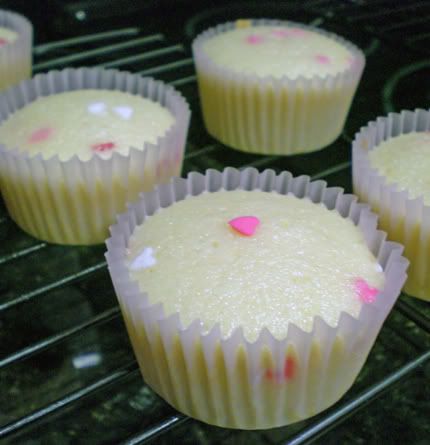 I figured all kiddies like surprises, and little girls would definitely like being surprised by seeing little pink hearts when they bite into their cupcakes :)
Then, I made two different color frostings: pink and purple, and I put them side by side in the piping bag: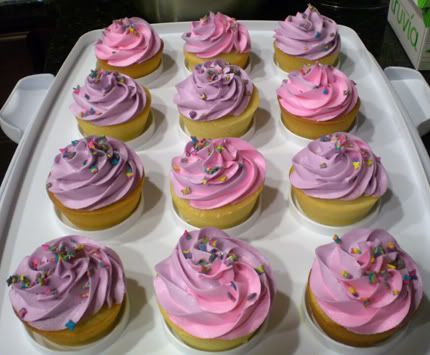 >
It only takes a tiny bit more time, and it makes them look much much cuter. Topped 'em with some pinky-purply butterfly sprinkles, and you've got the quintessential cupcake for a little girl's birthday party.
Since I had to have 25 cupcakes for the parties, and my recipe makes 15 each, I had a few extra. With one of them...well...you can never have too much frosting, right?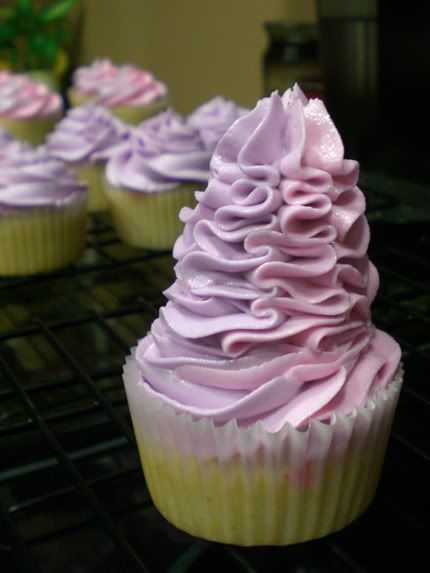 Haha, WRONG. No one ate that one. Daniel claims, "I don't know
how
to eat it." But you can really see the side-by-side colors in that one.
The other baking thing I did this week was the
"Cupcake of the Week!"
This week's flavor?
Vanilla with Vanilla Buttercream!
Nope, no fancy flavors this week! Because this week at the mall is Making Strides Against Breast Cancer. So, I made Pink themed cupcakes to go along with this event, and with each cupcake sold, 50% of the money goes to Breast Cancer.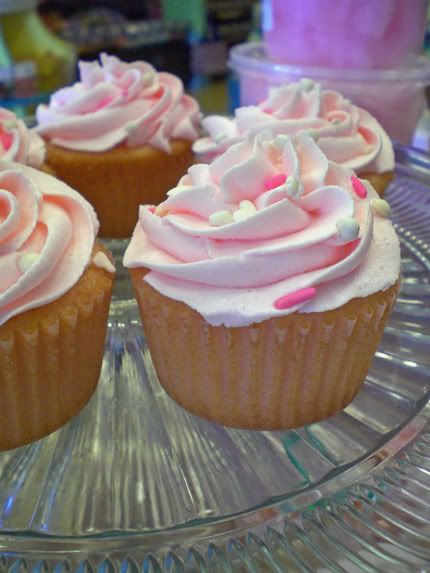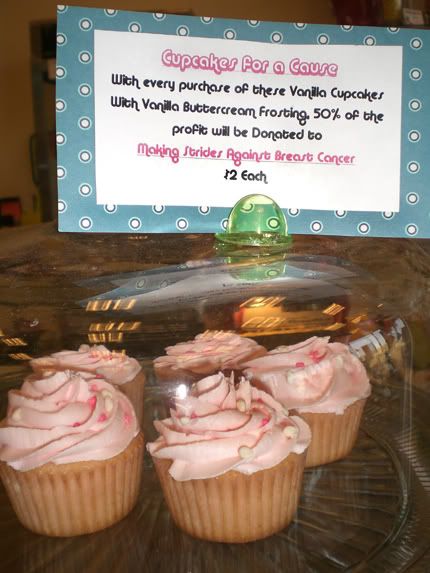 After the walk, the participants will probably be hungry and want a perfectly pink cupcake, right? Hopefully, they'll all be purchased up, and I can make a donation to making strides.
While I was making and baking those bad boys up, I figured I'd take some pictures to give a few simple little cupcakes tips to all you cupcake bakers out there. These are some no-brainer tips that you may or may not know already, but once I figured out these little methods, it made cupcake baking a little bit easier.
Tip #1
: How to get evenly sized cupcakes
I like to put all my batter into a big zippy bag fitted with a piping tip. This way, I can squeeze the batter into the liners in the pan, and it won't be all lumpy. When piped in rather than scooped in to the pan, you can easily see if they are all equally filled up or not. It also makes for MUCH LESS MESSY cupcake batter distribution. No dripping from the measuring cup or spoon, you just squeeze out the batter, stop squeezing when you're done, and then move to the next liner... No drips on the pan between the wells.
BUTTT, if you're alone and baking cupcakes,
How do you get that batter in a bag? YOU ONLY HAVE TWO HANDS, RIGHT?
What I like to do is fit my ziplock bag with the tip, take the tip and fold it upwards (positioned so that no batter will drip out of the tip due to gravity...stupid gravity), and lay the bag in a bowl:
really terrible picture warning
: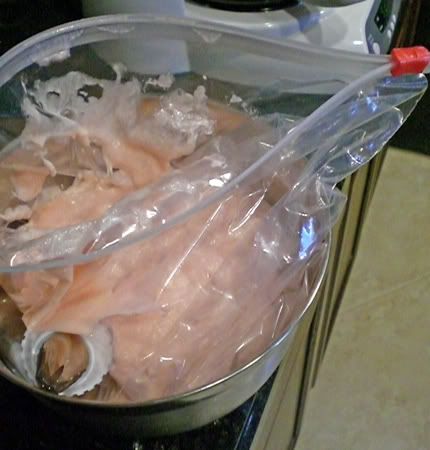 You can either spread the opening of the bag over the rim of the bowl, or just hold the bag open with one hand. Then, pour your batter in easily! :)
really really bad picture warning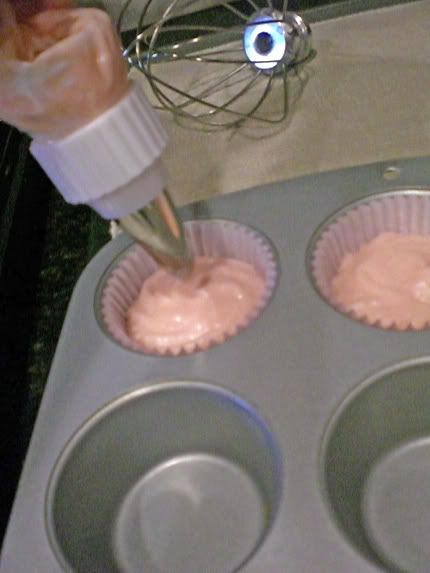 Then you just pipe your batter into your liners. See how much easier it is to tell if they're equally filled? It's nicely even and not lumpy.
Tip #2
: How to get the cupcakes out of the pan easily
I usually let my cupcakes cool in the pan for just 1 - 5 minutes. This way, I don't scorch my fingerprints off, but I also don't allow the cupcakes to continue baking in the pan for that long. As soon as they get out of the oven, however, I take a toothpick and run it around the edges of the cupcake: releasing that top little blub of cupcake that may be stuck to the pan.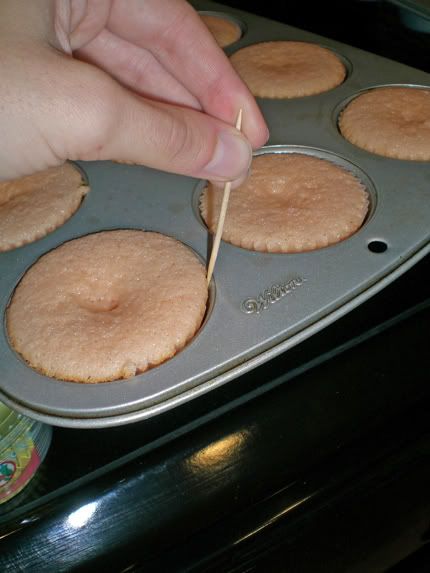 Then I let it cool for a tiny bit longer, and pop 'em out. Its much easier to get this cupcake rim un-stuck when they are still fresh out of the oven... no ripping or breaking. And then they literally just fall out of the pan. VOILA!
So those are my cuppity-cake tips. They're common sense, but it took me quite a few batches to figure them out. Maybe they can save you a little bit of time and aggravation in the kitchen. Happy Baking!!