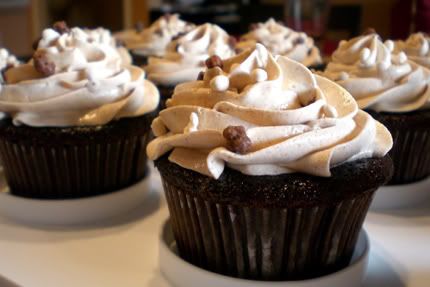 It is absolutely amazing how fast the week flies by when you are trying to accomplish 9,000,000 things every day. Another week has gone by, and I feel like I have accomplished none of the work I planned on getting started on. ::sigh:: I can only hope that I'll actually be able to get it all done by the due dates. I'm getting quite nervous. And next Friday I leave for Europe for a week... oy vey. I thought your senior year, last semester was supposed to be easy??
Anyway, in between making my Italian presentation on
Restaurazione D'Arte in Italia
for Tuesday and NOT getting any more work done on my thesis, I was able to whip up this batch of
Cupcakes of the Week
. I must say, I'm more than happy with the results. A few days ago... well maybe it was more like weeks ago... I'm not sure... but I saw a little blog snippet of Chocolate Snickerdoodle Cookies. How amazing does THAT sound? Combining the amazing-ness of Cinnamon Sugar with Chocolate?! Count me IN. I decided to try to make the Cupcake version of that.
For the Chocolate Cake, I went with this recipe for
Double Chocolate Layer Cake
from Epicurious. It had a good number of good reviews, and I really wanted a rich, deep, chocolatey, moist cake to be my base. I scaled it down and played with it as such: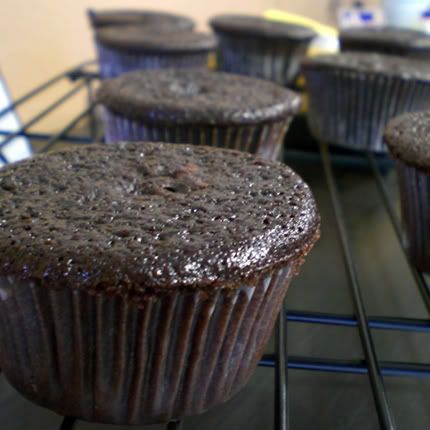 don't they look soo dark and chocolatey?
Chocolate Cinnamon Cupcakes
adapted from
Epicurious
Makes 17 cupcakes
Ingredients
1 1/2 ounces Semi-Sweet Chocolate Chips
3/4 C Hot brewed Coffee
**EDIT: 1 1/2 C Granulated Sugar
1 1/4 C Flour
3/4 C Unsweetened Cocoa Powder (not Dutch Process)
1 Teaspoon baking soda
1/4 + 1/8 teaspoons baking powder
1/2 + 1/8 teaspoons salt
1 1/2 Eggs (I know, I'm so annoying!)
1/4 + 1/8 C Oil (I used olive oil, its fiiiinneee)
3/4 C Buttermilk
1/4 + 1/8 Teaspoon Vanilla
1 teaspoon of Cinnamon
Preheat to 300, and line your cupcake pans with 17 liners.
Put the semi-sweet chocolate chips in a glass measuring cup, and the hot brewed coffee in another glass, microwave safe measuring cup. If your coffee is not super hot, I recommend making it so with the help of your trusty microwave. Pour the hot coffee over the chocolate and let it melt. Give it a stir every couple of minutes.
In a medium bowl, combine sugar, flour, cocoa powder, baking soda, baking powder and salt.
In the bowl of an electric mixer, beat the eggs until they are slightly thickened and a light, opaque yellow color.
Slowly add the oil, buttermilk and vanilla to the eggs. Then add the melted chocolate mixture, beating until combined well.
Next, add the sugar mixture and beat on medium until combined well.
Pour batter into cupcake liners until they are about 3/4 full. Bake for about 35 minutes, or until a tester comes out clean.
Place cupcake pans on cooling rack and let sit for 5 minutes. Then, take a knife and gently separate any cupcake-tops that may have grown and stuck to the pan. Remove cupcakes from pan and let cool completely on wire rack.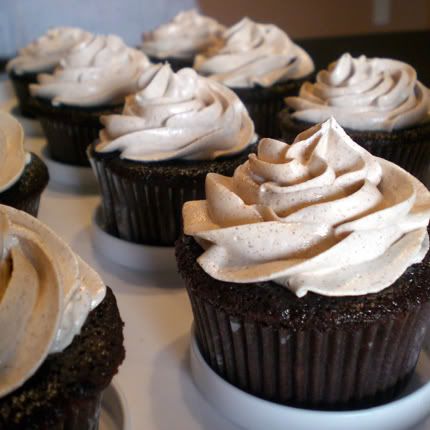 Cinnamon Buttercream Frosting
Ingredients
2 sticks of butter, room temperature
1 teaspoon vanilla extract
2 teaspoons ground cinnamon
2 cups confectioners sugar
In the bowl of an electric mixer, beat the butter until light, fluffy and creamy. Then, add the vanilla. In a small bowl, combine the sugar and ground cinnamon. Then, add slowly to the butter mixture. Beat on high for about 5 minutes, until it reaches desired consistency.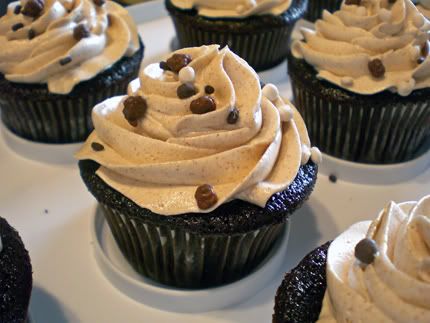 I would definitely use this chocolate cake recipe again, it was easy, and came out very moist and chocolatey. And the cinnamon buttercream... great. In both the cake and the frosting, the cinnamon was noticeable but not overpowering. It had a good balance of rich, intense chocolatey-ness, and spice from the cinnamon.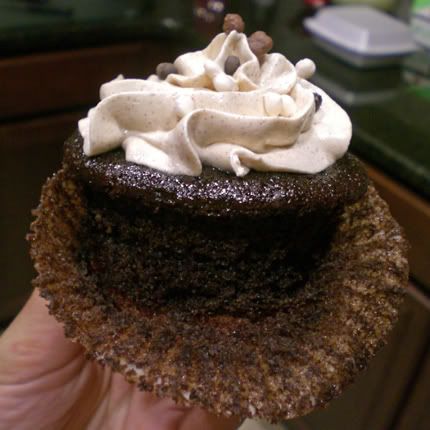 And before I go, I would like to share two things with you. One is silly and one is exciting. Ok, the exciting one first:
LOOK, I got on Cupcakes Take the Cake
! I was so excited! Theirs is one of my favorite blogs, so getting on there was a very cool thing for me :)
Ok, here's the silly thing:
How cute is Ernie taking pictures of his chocolate cuppycakes? He'd be a good foodie blogger.