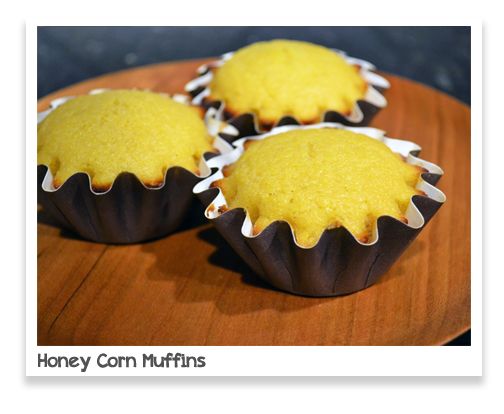 When I was younger, I lived on Entenmann's Corn Muffins. My mom would cut them in half, butter then, and put them in the broiler until they were perfection. The little brown toasty bits at the edges were my favorite, I'd pick those off and eat those first. Sometimes, instead of those corn muffins, I'd eat Thomas' Toast R Cakes Corn Muffins (or as little Stephanie referred to them, "flat corn muffins"). I guess you could have called my younger self a mass produced corn muffin connoisseur.
Grown-up Stephanie still appreciates a good corn muffin.
I'm not going to pretend I didn't ask my mom to pick up a box of my beloved flat corn muffins when I went home to NY this past summer.
But for some reason, I've never made them from scratch before. After baking this recipe from Baked Explorations, I have no idea why, seeing as they were so quick to throw together.
This recipe baked up delicious little corn muffins. I'm not sure I'll ever need to try another recipe since this one was just so good. Buttery with a perfectly dense crumb. I ate one (or two) plain without butter or honey, but I think if I were to toast and butter one up, I might just experience flashbacks to my afternoons after getting home from Kindergarten sitting on the couch in my den watching Match Game re-runs.
Rather than baking them in standard cupcake liners, I used these adorable mini brioche style liners from Just Sugar Coat It. Instead of 12, I was able to get 18 small muffins (perfect size!). Let me tell you, I love these liners! They are stiff and hold up well, and make something as plain as a corn muffin look quite fancy.
For the recipe, look to Baked Explorations, or Karen's Cookies Cakes and More. Make sure you visit the blogroll and see how these muffins came out for the other Club Baked bakers.