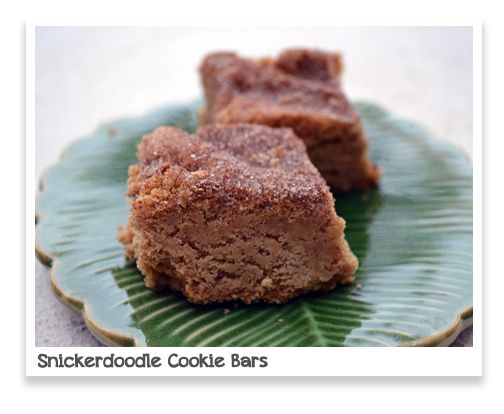 Are you a soft, chewy cookie person or a crunchy person? I'm both (darn. I just love cookies) but Daniel is a soft cookie person true and true. We both love cinnamon so soft cinnamon-sugary Snickerdoodles are a favorite around here. But to be honest, a lot of the time I am just too lazy to individually roll each dough ball in cinnamon sugar. It takes a while and I usually make quite the mess in the process (though, to be fair, I make a mess in the kitchen no matter what I'm doing). So recently when I was in the mood for snickerdoodles but just couldn't get the motivation to go through the cinnamon sugar rolling process, I decided to just press the dough into a 8 inch cake pan. What a beautiful decision that turned out to be because these Snickerdoodles came out nice and tall and soft. Lesson learned - take the easy, lazy way out and sometimes, just sometimes, it works out.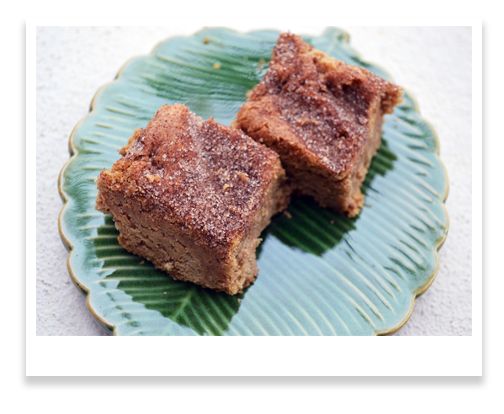 Brown Butter Snickerdoodle Cookie Bars, adapted from
BAKED Elements, Matt Lewis and Renato Poliafito
Ingredients:
2 sticks unsalted butter
2 3/4 cups all-purpose flour
2 ½ tsp cream of tartar
1 tsp baking soda
1 Tablespoon plus 2 tsp. cinnamon, divided
¾ tsp freshly ground nutmeg
½ tsp fine sea salt
2 large eggs, room temp
1 Tablespoon whole milk
1 cup plus 3 Tablespoon granulated sugar, divided
½ cup firmly packed light brown sugar
In a medium skillet, melt butter over medium heat swirling the pan occasionally until the foam subsides and the butter browns, about 8 to 10 minutes. Pour the browned butter through a strainer directly into the bowl of a standing mixer fitted with a paddle attachment. Beat the butter on low speed to release the heat and bring it to room temperature, approximately 5 to 7 minutes.
In a large bowl, whisk together the flour, tartar, baking soda, 1 tsp cinnamon, nutmeg and salt.
In a small bowl, combine eggs and milk. Whisk lightly.
Once butter has cooled, turn off mixer and add 1 cup of the granulated sugar and the brown sugar, and beat on medium for about 2 minutes. Scrape down the sides and bottom of the bowl and beat again for a few seconds. Turn the mixer to low and stream in the egg mixture, continue beating on medium until thoroughly combined.
Add the flour mixture in three parts, beating after each addition for 10 to 15 seconds, or until just barely incorporated. Scrape down the sides of the bowl and gather the dough into a mound in the middle. Cover the bowl and refrigerate for at least 1 hour.
Gently press the cookie dough into the prepared cake pan. In a small bowl, whisk the remaining 3 tablespoons of sugar and 1 tablespoon plus 1 teaspoon of cinnamon until the mixture is uniform in color. Sprinkle over the cookie dough.
Bake until a cake tester inserted into the dough comes out clean. I think mine took about 20 minutes, but I would start checking at about 15 minutes if you want a soft, not dry cookie.
Set the pans on wire racks to cool for 10 minutes. Use the parchment tabs to lift the cookie out of the pan and transfer to a cooling rack to cool completely.