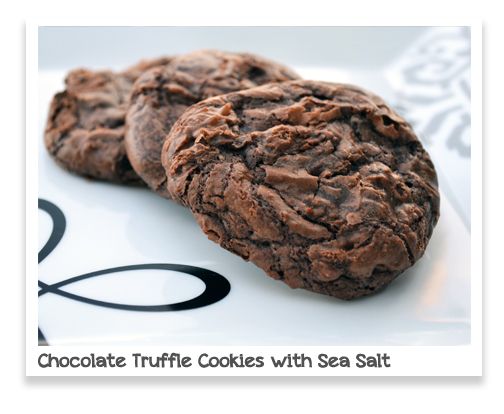 Today is October 28th. Halloween is just around the corner... and there are already Christmas decorations and advertisements all over the stores and TV. It does feel like Fall gets a little bit rushed, especially after Halloween is over. Oh well, might as well start planning those Christmas cookies now then, right? :)
These unique Chocolate Truffle Cookies would be a great addition to any Christmas cookie platter. They have a nice shiny "crust" (similar to the top of a brownie) and the inside has a texture that combines a chocolate cookie, a rich fudgy brownie, and a chocolate truffle. And BONUS - they're super easy to make.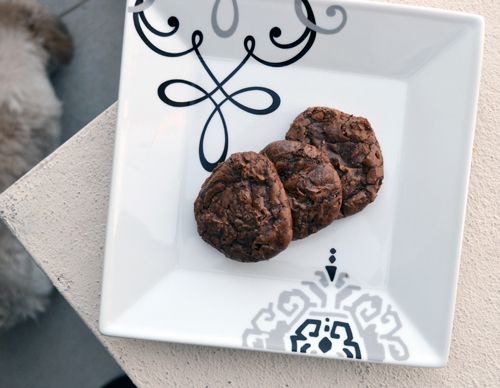 do you see the napping doggy in the picture above?
Chocolate Truffle Cookies with Sea Salt, adapted from Ghirardelli
Ingredients
¼

cup all purpose flour

¼

teaspoon baking powder

¼

teaspoon salt

1

½

cups

dark chocolate chips

2 tablespoon unsalted butter

2 eggs, room temp

½

cup granulated sugar

1 teaspoon pure vanilla extract

fine Diamond Crystal sea salt for sprinkling

additional 1/3 cup dark chocolate chips (optional) for mixing into prepared dough
In the top of a double boiler, melt chocolate and butter until smooth. Turn off the heat and let chocolate sit over warm water.
In a small bowl, combine flour, baking powder and salt and mix to combine.
In another bowl, whisk together sugar and eggs. Slowly add the warm chocolate mixture. Stir to combine.
Add vanilla and mix. Stir in flour mixture, mixing just until incorporated, do not over mix.
If adding chocolate chips to the batter, allow to cool for a few minutes (if batter is too warm, the chocolate chips will melt). Stir in chocolate chips. Then chill for at least 10-15 minutes.
Preheat oven to 350°F. Scoop rounded tablespoons of batter and place on prepared cookie sheet. Sprinkle each cookie lightly with sea salt. Bake for approximately 7-8 minutes until the outside looks slightly cracked. Do not over bake because they will continue to bake a little as they cool once removed from the oven. Cookies should be soft and gooey in the center.