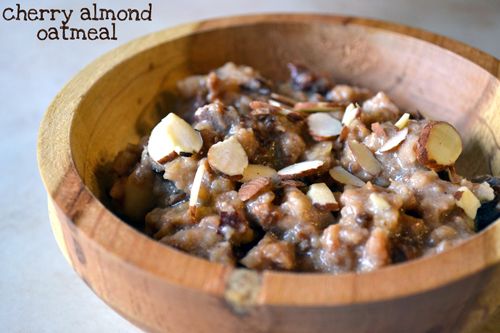 I'm not quite sure why I have been making oatmeal so much considering it is June in Florida. But even though it is hot out, I still find it comforting to have a nice warm breakfast in the morning. This is another one of my slow cooker oatmeal recipes that I make in advance. I prepare a large batch of this recipe and freeze in separate 1/2 cup servings. When time to serve, I thaw it out (either slowly overnight or quickly in the microwave), stir in some milk in, and sweeten with Truvia. Perfect for the middle of Winter or the middle of Summer (in my weird breakfast-loving opinion).
Slow Cooker Cherry Almond Oatmeal, adapted from The Yummy Life
Ingredients:
1 cup dried bing cherries
1/2 cup unsweetened applesauce
2 cups milk
1 1/2 cups water
1-1/2 to 2 cup uncooked old fashioned oats
2 tablespoons brown sugar
1/2 tsp almond extract
3/4 cup almonds, roughly chopped
1 tablespoon ground flaxseed
1/4 tsp fine sea salt
Additional milk, Truvia, and sliced almonds (optional, for serving)
Coat the inside of a crock pot with cooking spray. Add all of the ingredients to the slow cooker and stir to combine. Cover and cook on low for 1-1/2 to 2 hours or until it reaches the desired consistency. Allow to cool slightly and then spoon into separate portions (in containers that can go in the freezer).

I scoop 1/2 cup portions into a silicone muffin pan and place it in the freezer. W

hen frozen, remove the oatmeal pods from their muffin pan and store in zippy bags.
To serve, thaw, add a little milk, microwave and stir, and serve with Truvia. Garnish with sliced almonds if desired.