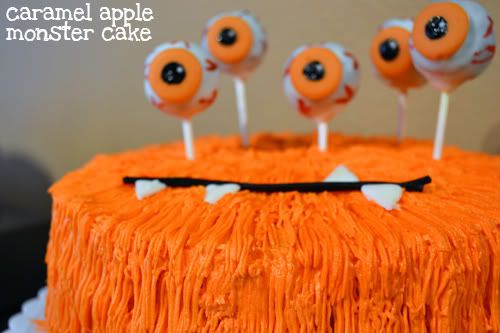 On Sunday we celebrated Halloween with the family. I saw
this Monster cake
and really wanted to make it, so when I saw we were baking the Caramel Apple Cake with Club Baked, I thought how perfect! I'd turn the Caramel Apple Cake into this furry little monster.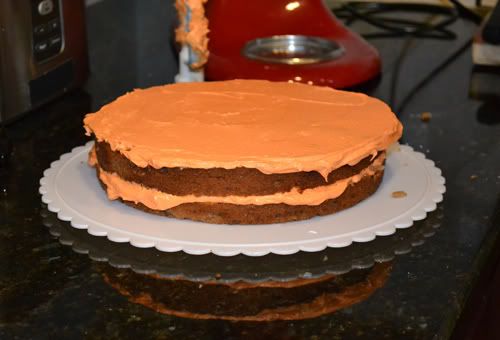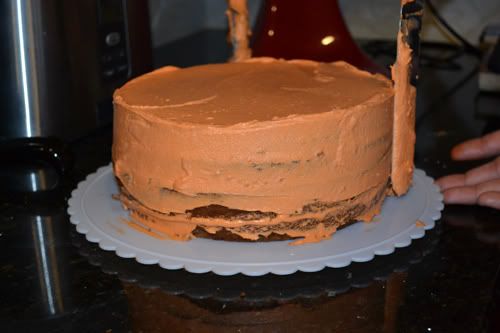 I don't have 3 round cake pans, so I made 2 nine-inch cakes, and split each into two - creating a four layer cake. Also, I cheated with the frosting. I saw mixed reviews of the frosting recipe on the Club Baked P&Q page, so, being short on time (I made lots of cake balls and puff pastry intestines, too... pictures to come soon), I decided to make a shortcut and just whipped up a batch of my favorite buttercream frosting - adding 1/3 cup of store bought caramel topping for ice cream.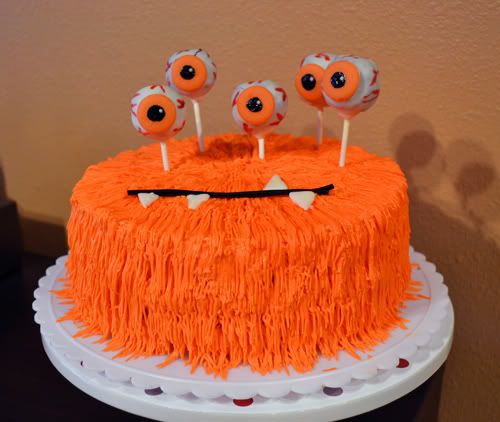 First we crumb-coated. Then we (I say WE because the husband did all of the fur piping! I should really say "HE!") used a grass tip (flat tip with several small holes in it) to pipe the orange fur in concentric rings. His mouth is black licorice, and his teeth are made of Candy Quik that I piped into triangles on parchment, and then let harden before transferring to the monster.
His eye balls are devil's food cake pops dipped in vanilla candy quik. The orange bit is a Candy Melt wafer with black food coloring gel painted on with a paint brush, and a dab of Candy Quik for the little while shine. We painted the veins on with red food coloring gel and a paintbrush. It was time consuming, but fun!
As for the cake, everyone who tried it loved it. My nephew had two bowls full! What wasn't eaten at family dinner was thoroughly enjoyed at work the next day.
Thanks for Melissa of
Lulu the Baker
for selecting this recipe and hosting this week! What a great pick for this time of year, such a nice Fall spicey cake. Be sure to visit
Club Baked
and check out how the other Club Baked bakers did with this Caramel Apple Cake.