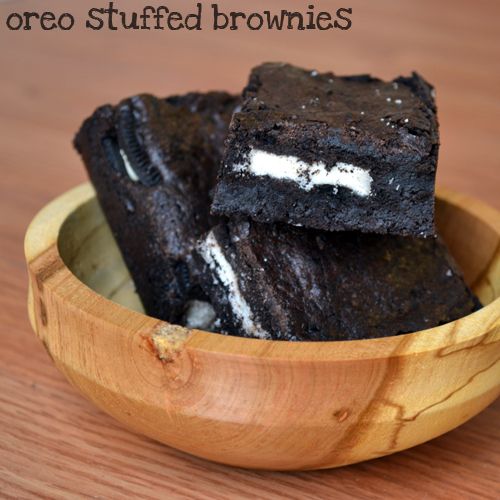 Brownies with Oreos baked right in the middle have been floating around the internet for a while now. Being huge fans of both, I'm not sure why I haven't got around to making them until now. It is a genius idea to bake something delicious in the middle of something else delicious. Plus, it's such a terrific and easy way to jazz up a boxed mix or your favorite from scratch brownie recipe to surprise your taste testers.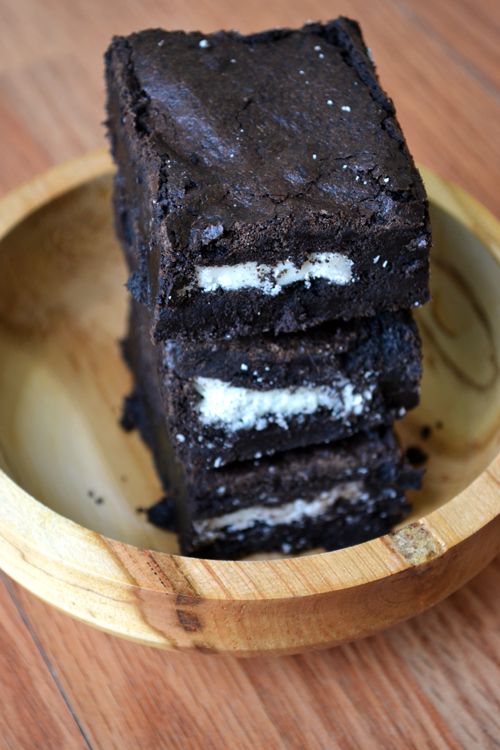 I used a new-to-me brownie recipe: Best Cocoa Brownies. The recipe on Epicurious says "Cocoa brownies have the softest center and chewiest candylike top 'crust'". I'd have to agree. They were super fudgey, soft and moist but still had that slight crisp to the top. I used Hershey's Special Dark cocoa powder for a super chocolatey taste.
Best Oreo Stuffed Cocoa Brownies adapted from Epicurious
Ingredients:
10 tablespoons (1 1/4 sticks) unsalted butter
3/4 cup plus 2 tablespoons Hershey's special dark cocoa powder
1/4 teaspoon fine sea salt
1/2 teaspoon pure vanilla extract
1/2 cup all-purpose flour
Directions:
Combine butter, sugar, cocoa, and salt in the top of a double boiler with the water beneath barely simmering. Stir from time to time until the butter is melted and the mixture is mixed. Remove the bowl from the skillet and set aside briefly until the mixture is only warm, not hot.
Stir in vanilla. Add the eggs one at a time, stirring vigorously after each one. When the batter looks thick, shiny, and well blended, add the flour and stir until you cannot see it any longer. Spread half of the batter in the lined pan. Arrange oreos in a single layer on top of the batter. Pour the remaining brownie batter on top of the oreos and spread to cover them.
Bake until a toothpick plunged into the center emerges slightly moist with batter, 20 to 25 minutes. Let cool completely on a rack.
Transfer the brownies to a cutting board. Cut into squares.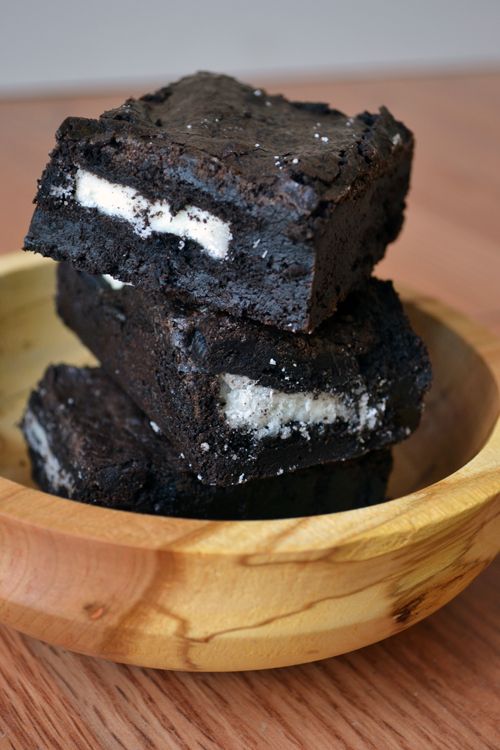 Speaking of amazing, did you see the wooden bowl my oreo brownies are styled in? One of many things I love about doing local craft shows for
The Smart Baker
is getting to meet other entrepreneurs. At our most recent show in October, our booth was next to that of a wood turner,
Berkshire Bowls
. His Etsy site says, "At Berkshire Bowls we try to make all of our pieces from material that was brought down by natural causes. Each time there is a wind storm, ice storm or other means, I am looking for the material for our next piece". So they're not just beautiful, they're very green, too. He boasts such a wide range of products such as pens, boxes, puzzles, bowls of all shapes and sizes. I just couldn't resist this adorable little bowl. We're currently working with Scott, the owner, on some very "smart" kitchen items. I can't wait to share them with you!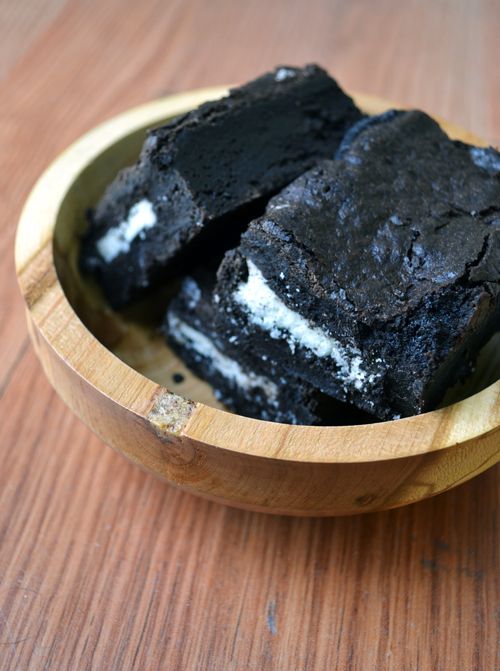 Check out
Berkshire Bowls
' website for more information. I bet there's a bowl or two that you won't be able to resist either.