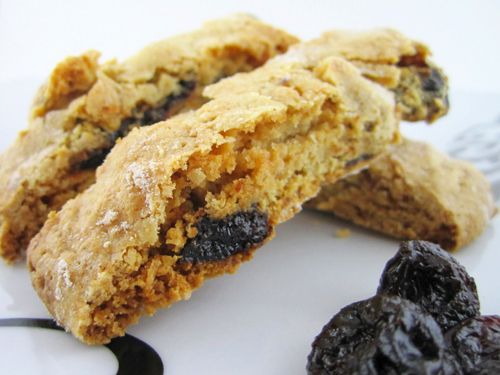 Do you love breakfast? I do. I rarely begin my day without some sort of breakfast.
No matter how busy I am or what kind of a rush I'm in, it
always
involves coffee. When I'm running behind I grab my to-go mug of coffee and whatever is on the counter which is usually just a banana or apple. On those rushy-rush days I'd love to be able to grab one of these freshly baked biscotti on my way out the door. They were just the right thing first thing in the morning... or any time of day for that matter.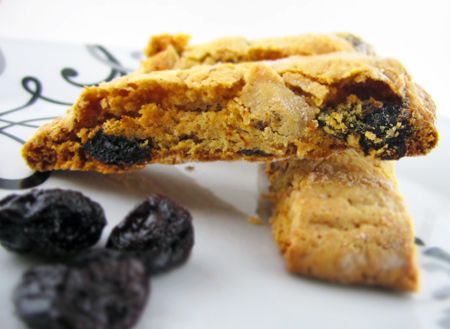 This week, Tracey of Made by Tray Tray chose our recipe for Sweet Melissa Sundays: Sour Cherry and Almond Biscotti. Though I couldn't find Dried Sour Cherries anywhere, I picked up some regular Dried Cherries, and instead of simmering them in Orange Juice, I used Lemon Juice to try to add some of that Sour-Tartness I'd be missing. Other than that and scaling it down by half, I made this recipe exactly as is. Which I'm glad about because they came out perfect.
Dan doesn't love super crunchy things, so I made some of them as "Biscotti" - twice baked, and the others I only baked once, so I call them "Unscotti". These ones weren't dried out entirely, so they still had a little bit of chew left in them.
After I simmered my Dried Cherries in Lemon Juice, I saw how much Cherriness had seeped into the Lemon Juice. I decided it would be a tragedy to throw this away, so I stuck it in a measuring cup (it was about 2 ounces total) and stuck it in the frig. I grabbed 2 ounces water and 1/4 cup granulated sugar and made a simple syrup with it, and then let that cool to room temperature. After it's all cooled, add 6 ounces ice cold water, and a bunch of ice cubes and what do you get?
Only the most delicious Cherry-Lemonade EVER!!
Cherry Lemonade - I didn't include measurements because this can be scaled to make your desired amount. Mine above yielded two glasses.
Ingredients:
*Combine equal parts Dried Cherries and lemon juice (Example: 1/2 cup of Cherries and 1/2 cup of lemon juice).
*Simmer over medium heat until the color of the lemon juice is murky and brownish-red. Remove from heat and strain out the Cherries (now would be a good time to make some Sour Cherry Almond Biscotti!).
Pour into a measuring glass and allow to cool. Note the amount of Lemon-Cherry juice mixture after simmering. Chill in the frig 30-40 minutes.
*Measure out equal parts water and sugar (each equal to what the Lemon-Cherry Juice mixture was after simmering. So if you yielded 1/2 C Lemon-Cherry Juice after simmering before, take 1/2 C water and 1/2 C sugar). Boil together until the sugar dissolves and you have a simple syrup. Set aside and allow to cool.
*Add all ingredients together and stir. Add cold water (the amount of ice water is your Lemon-Cherry Juice mixture amount x 3. So if you had yielded 1/2 C Lemon-Cherry Juice earlier, add 1 1/2 C cold water now).
*Serve over ice cubes and ENJOY!
Thanks for hosting this week, Tracey! We enjoyed these biscotti thoroughly! Head over to Made by Tray Tray to check out the recipes. And click here to see the list of this week's participants!
Don't forget about my GIVEAWAY. Umm.. free dove ice cream miniatures, anyone? Click over to this post for the details! I'll be giving away TEN free product coupons, so there's a good chance you could win one!!!