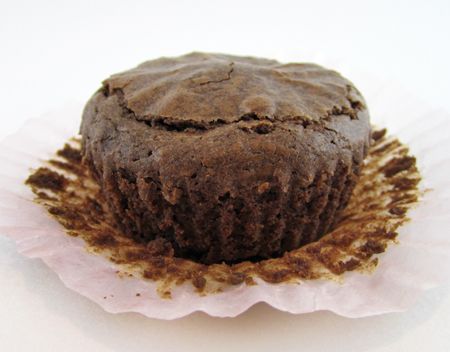 I
'd probably never turn down a chance to make brownies. No matter how many recipes I've tried, I'm always willing to try a new one. Even the not-so-great recipes seem to disappear quickly in this house. So this week's SMS recipe of choice, Chocolate Walnut Brownies, was warmly welcomed. Thanks for picking it, Tiffany!
Recently I received a kitchen item in the mail from
CSN stores
, so that is why I decided to make these brownies in cupcake form (more on that product review soon). The full recipe yielded 16 cupcakes filled about half way, and baked for about 30 minutes.
The brownies turned out great, but baking them in the cupcake liners made them a little bit crisper around the edges than if they were sliced from a 9 x 9 square pan. Someone who loves the brownie edge pieces would love these. But they were still fudgey and soft in the center, and sturdy enough to stand on their own without falling apart (a problem with very soft brownies). We did have a tiny bit of a sticking-to-the-paper problem when trying to remove them from the liners... but this got much easier the day after these were baked.
I asked the fiance (97 days until our big day!) how these ranked compared to other brownies we've made, and he said, "Well these are different. They have nuts. But brownies with nuts are good. They were good, I could eat a whole bunch of them." (He may sound distracted because he gave his review racing a car around Rome on Playstation).