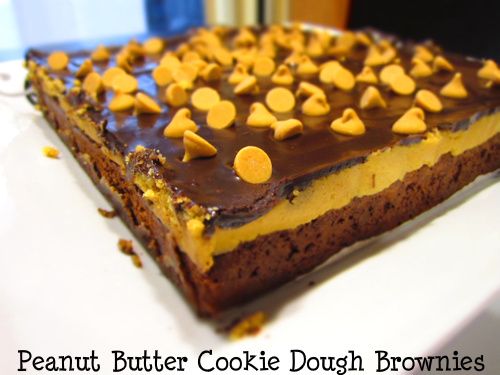 Occasionally I'll spent a lot of time preparing something, getting creative, making it fancy, and it just doesn't go over well. Usually, though, the classic treats are home-runs. When you want to make a dessert the family will surely go nuts for, stick to time-tested flavor combinations and family favorites. These Peanut Butter Cookie Dough Brownies were one of those home-run desserts that was actually pretty easy to make, too. If you're still searching for a recipe to make for the Fourth of July festivities you'll be attending, keep these in mind. Moist, chocolately brownie layer on the bottom, Peanut Butter Cookie Dough-ish frosting in the middle, Rich chocolate ganache on top... You'll definitely hit one out of the park with these.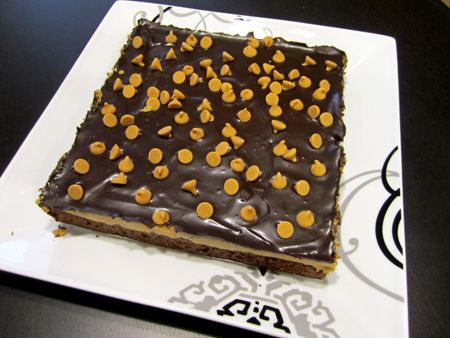 Ingredients for Brownie Layer:
1/2 cup unsalted butter
2 ounces unsweetened chocolate, chopped
1 teaspoon vanilla extract
1 cup sugar
2 large eggs
1/2 cup plus 2 tablespoons all-purpose flour
1/2 teaspoon baking powder
1/2 teaspoon salt
3/4 cup semisweet chocolate chunks
Ingredients for Peanut Butter Cookie Dough Frosting:
1/4 cup unsalted butter, soft
1/2 cup packed light brown sugar
2 tablespoons milk
1/2 cup creamy peanut butter
1/2 cup plus 2 tablespoons all-purpose flour
1/2 teaspoon salt
Ingredients for Ganache:
3/4 cup semi-sweet chocolate chips
1/4 cup heavy whipping cream
1/4 cup Peanut butter chips
Preheat to 350 F. Line an 8 x 8 square pan with a parchment paper sling.
To prepare the brownie layer:
In a small saucepan, melt the butter and unsweetened chocolate together and stir until combined. Mix in the vanilla extract and allow to cool slightly. Beat the sugar and eggs in a large bowl and add in the chocolate mixture. In a small bowl, whisk together the flour, baking powder, salt. Stir into the chocolate mixture. Add chocolate chunks and stir to combine. Spread the brownie batter evenly into the prepared pan. Bake about 22 to 28 minutes, or until a toothpick inserted into center comes out clean. Remove from the oven and let cool in the pan.
To prepare the peanut butter cookie dough:
Beat the butter and brown sugar together until creamy. Mix in the milk and the peanut butter. Stir in flour and salt. Spread the peanut butter cookie dough evenly over the cooled brownies.
To prepare the ganache:
In a small saucepan, melt the semisweet chocolate chips with the heavy whipping cream. When the chips are melted and the mixture is smooth, remove from the heat. Spread the ganache over the peanut butter layer and sprinkle with the peanut butter chips. Refrigerate until the dough and ganache are set, about 1 hour. Remove the brownies from the square pan by lifting the parchment sling, and cut into squares.