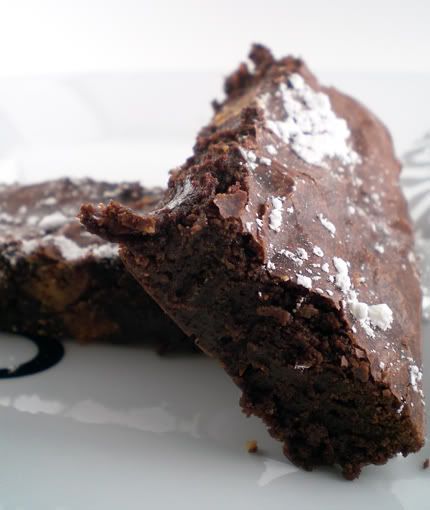 Catching up with the posts (a bit)! I made these not too long ago. Inspired by Katharine Hepburn's brownie recipe included in Dorie Greenspan's
Baking: From My Home to Yours
and my undying love for Reese's Peanut Butter Cups... I decided to combine the two to create a Delicious dessert MONSTER. The result... very good...
Especially
after a day or more just like every brownie recipe I've ever made... this seems to be a given with homemade from-scratch brownies. The cinnamon and the espresso flavor were quite pronounced, and they were nice and moist and tender, yet on the sturdy/not-going-to-fall-into-crumbly-bits side. Although we enjoyed them thoroughly, I have to say they were not my absolute favorite brownie recipe so far (but that didn't stop us from eating the whole pan within days). I also think that with the espresso and cinnamon flavors, the peanut butter cups fell into the background a bit. I will try the Peanut Butter Cup mix-in again but perhaps with a simpler brownie recipe.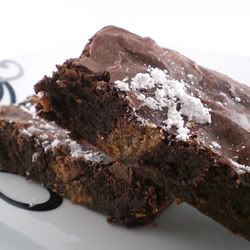 Katharine Hepburn's Brownies
with slight alterations from Dorie Greenspan's Baking: From My Home to Yours
Ingredients
:
1/4 cup all purpose flour
1/2 tsp ground cinnamon
1/4 tsp salt
1 stick unsalted butter
1/2 cup unsweetened cocoa powder
1 1/2 tsp espresso powder
2 eggs
1 cup sugar
1 tsp vanilla extract
4 ozs semisweet chocolate chips
9 miniature Reese's peanut butter cups, chilled in the freezer for at least 1/2 hour
Directions
:
1. Preheat your oven to 325 and butter an 9 inch sqaure baking pan. Line the buttered pan with parchment and re-grease the parchment paper. Lightly dust greased dishwith flour.
2. In a small mixing bowl, combine the flour, cinnamon and salt.
3. Chop the peanut butter cups roughly and set back in the freezer.
4. In a medium saucepan melt the butter over low heat. Once it begins to melt, sift in cocoa powder and espresso.
5. Stir until the butter is completely melted and the espresso and cocoa powder have completely combined.
6. Remove from the heat and allow to cool for ~ 3 minutes
7. Add the eggs one at a time to the butter cocoa mixture and beat just to combine.
8. Stir in the sugar and vanilla, do not overmix.
9. Whisk in the dry ingredients, followed by the chocolate chips. Gently fold in the chopped peanut butter cups.
10. Pour into the prepared baking dish and bake for 30 - 35 minutes or until toothpick comes out clean.
11. Allow to cool on baking rack in pan for at least 30 minutes before removing them from the baking pan, or allow to cool completely in the pan (it is up to you... I generally allow them to cool all the way in the baking dish, though this adds some extra baking time to the brownies possibly overcooking/drying them out).