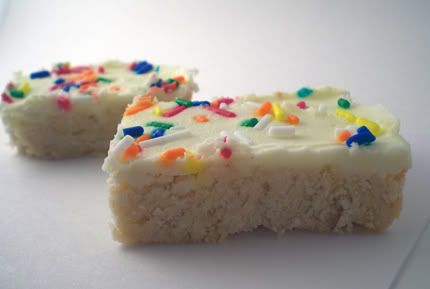 Sometimes, simple is good. Sugar cookies are one of those things that don't need to be fancied up at all, they're tasty already - as they are - simple. I like this recipe because it's perfect for when you're too lazy to roll out dough and use cookie cutters.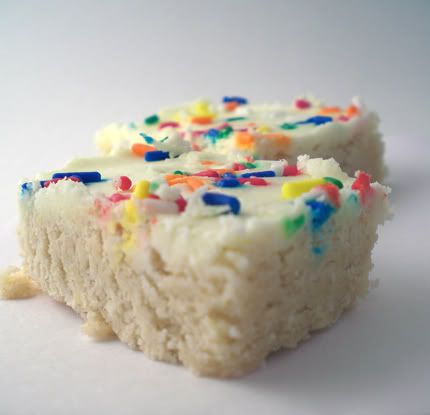 Sugar Cookie Bars
Ingredients
:
1 stick of butter, softened
1 cups sugar
2 eggs
1 tsp vanilla
2 1/2 cup flour
1/2 tsp salt
1/4 tsp baking soda
Preheat to 375. Sift together the flour, salt & baking soda to combine, and set aside. Spray a 9 x 13 cookie sheet (with raised sides) with non-stick spray. Put the butter in the bowl of an electric mixer and turn on to cream the butter. Slowly add the sugar and mix until creamy, about two minutes. Add the eggs and mix to combine. Add vanilla. In three parts, add the flour mixture to the butter mixture and stir just to combine, scraping the bowl in between additions. Spread the dough in the 9 x 13 pan. Bake for 14 - 19 minutes, or until it is slightly golden around the edges. Leave in pan to cool, on a wire rack. When completely cool, spread with about 1 cup of frosting (recipe below), or to taste. Wait until frosting has set a bit before cutting, at least a half hour.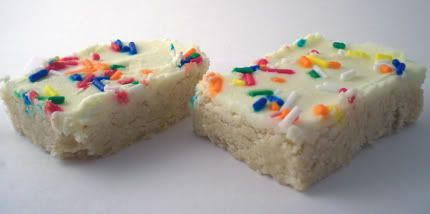 Buttercream Frosting
this recipe makes a lot more than you'll need for this, but it stores really well in the frig. I just make it in big batches and save it for future use.
Ingredients
:
1 1/2 C solid white vegetable shortening
2 teaspoons clear vanilla extract
1/3 C + 2 tablespoons warm water
a 2 LB bag of confectioner's sugar
Add shortening to the electric mixer bowl and turn on to cream it. Add 1/2 the sugar and mix on low to combine (you'll certainly want your bowl's dust lid/shield thing on at this point!). Add the warm water and mix to a paste. Once it is creamed, add the rest of the sugar. Mix. Add the extract. Mix to combine completely, scraping the sides of the bowl occasionally. Then, turn mixer to high and beat to about 8 minutes. Store in the frig for up to 8 - 12 weeks (seriously!).