I have claimed "Ice Cream Before Dinner" as both my blog name and my life philosophy for almost two years now, but not until a few weeks ago did it finally make sense! That's right, the latest edition to our kitchen... an Ice Cream Maker. This may be the most appropriate blog post I've made yet... so we certainly had to choose a really good recipe to begin this experimentation with.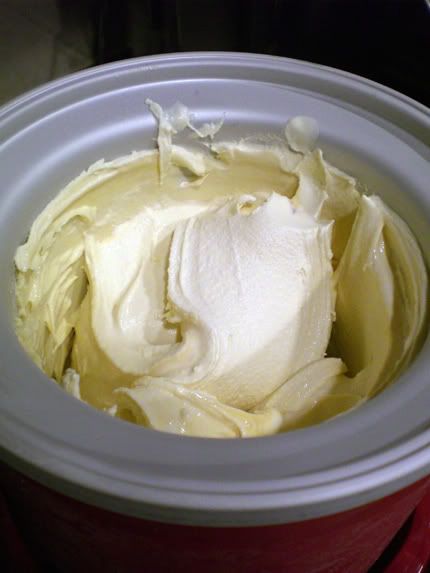 After reading tons of excellent reviews for his book,
David Lebovitz's The Perfect Scoop: Ice Creams, Sorbets, Granitas, and Sweet Accompaniments
seemed a natural choice for my first Ice Cream Maker recipe book. But... I couldn't wait for my book to arrive before I used my new kitchen gadget! I used
Books.Google.Com
to virtually flip through the pages of this book (Google Books is great, it lets you preview portions of books before you buy them) and picked a recipe to get me through the week it would take for my precious book to be delivered.
We knew we wanted a relatively simple flavor like vanilla as our first to really be able to see the potential of this little machine. There were many variations on the simple vanilla, but the little snippet he wrote to go along with his "Malted Milk Ice Cream" recipe won me over. He tells of writing the book and the oodles of trial ice cream flavors his fridge became filled with in the process. Lebovitz says he was forced to begin giving them out to neighbors and friends, but the one flavor he always reserved for himself was this one, for Malted Milk Ice Cream. As I did not change the recipe at all, I will not post it here... but you can find it on Google Books or better yet, you can buy the book and try out the rest of the recipes! From the results of this one, I look forward to doing that. It was very creamy, very flavorful, and
very
rich (a little goes a long way).
This ice cream provided the perfect base for the add-ins of your choice.. we went topping crazy...