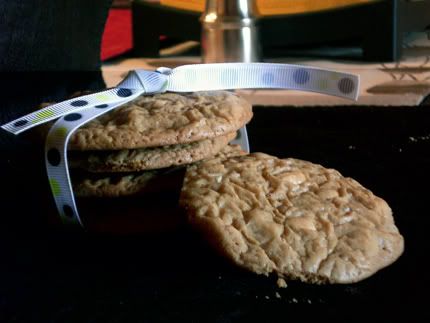 Ahh, cookies. I've been craving peanuts and peanut butter lately, so my craving inspired me to make this recipe. It came in a Martha Stewart Cookie of the Day email, and I've been staring at it in my inbox since November 24th. Finally, I gave in and made up half a batch, with some changes. They came out soft and chewy, and just as I was hoping they would. The cookie itself had a kind of caramellish-brown sugary taste. That together with the crunchy salty peanuts... good combination. Below is the recipe after my alterations.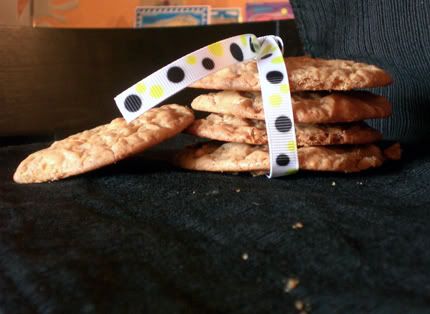 Peanut Cookies
adapted from
Martha Stewart's Peanut Crisps
Ingredients
:
1/2 C + 2 Tablespoons all purpose flour
1/8 teaspoon coarse sea salt
1/8 teaspoon baking soda
2 tablespoons salted butter, soft
1 tablespoon peanut butter (not organic/natural)
1/2 + 1/8 C packed light brown sugar
half an egg
1/2 teaspoon vanilla
1/2 C salted peanuts
Preheat to 350. In a small bowl, mix together the flour, salt and baking soda with a whisk and set aside.
In a medium bowl, beat the softened butter, peanut butter and sugar together with an electric mixer until fluffy.
Mix in half an egg and vanilla. Reduce speed to low, gradually add flour mixture and stir to combine. Stir in the peanuts.
Drop tablespoon amounts of dough on to silicone mat lined cookie sheet. Bake until golden, ~14 - 15 minutes. Cool on wire racks.