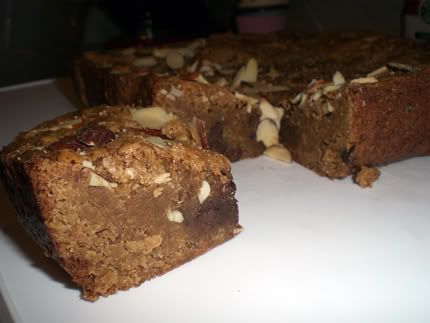 It has been a while since I blogged last, eh? In fact, I made these blondies on Thanksgiving and I am only getting around to posting it now. Life has been busy! Yesterday was my last day of undergraduate classes
ever
. Scary. All I have is one day of "finals" (even though all I have to do is a 1 minute presentation and hand in a paper) and then walk across that stage in my cap and gown. It's happy and terrifying at the same time. I have been thrust into the real world! Ahh, all will fall into place (right??).
For Thanksgiving, I made blondies... A nice alternative to brownies which surprisingly few people have had the pleasure of enjoying. All I have to say is that this recipe was a
huge
hit, and may even be my new go-to blondie recipe... surpassing the last blondie recipe I made which I declared "the end all be all of blondies" at the time. I guess I lied! I made only slight changes to this recipe, below is my version. I used regular ol' brown sugars instead of the expensive muscovado, I omitted the toffee chips, only added un-toasted almonds to the top (which then toasted a bit in the oven) rather than in to the batter, and upped the baking time.
Best Blondies
from
Throwdown with Bobby Flay
Ingredients
:
1 1/2 sticks unsalted butter
1 1/2 C all purpose flour
1 tsp Baking Powder
1/2 tsp salt
1 C light brown sugar
1/2 C dark brown sugar
2 Large Eggs
1 1/2 tsp madagascar vanilla
1 C Semi-Sweet chocolate Chips
~ 1/8 C slivered almonds
~ 1/8 Tsp cinnamon sugar
Directions
:
Preheat over to 350 F. Non-stick spray a 9 x 9 pan, line with a parchment sling, and non-stick spray the parchment.
In a medium bowl, combine flour, baking powder and salt. Whisk to combine.
Melt the butter in a small saucepan. When melted completely, add the sugars and whisk until the sugar is fully melted (about 3 - 5 minutes). Transfer this butter mixture to a medium bowl and let cool slightly. Then, whisk in the eggs and then the vanilla just until incorporated. Add flour, mix until just incorporated, don't overmix. Fold in the chocolate chips (if your mixture is too hot at this point, the chips will melt and you'll have too-chocolatey blondies, rather than blondies with chocolate chips in it!). Transfer this mixture into the preprared 9 x 9. Sprinkle enough of the slivered almonds to the top of the batter to cover as much as you like... I only covered half of the blondies with almonds, as I was not sure if everyone liked almonds. Sprinkle a small bit of cinnamon sugar over the top of the batter for a subtle bit of extra yum.
Bake for 30 - 35 minutes (Mine took 33 minutes) or when a toothpick inserted comes out with only moist crumbs, no raw batter. Remove to wire rack to cool completely. Cut after cool.