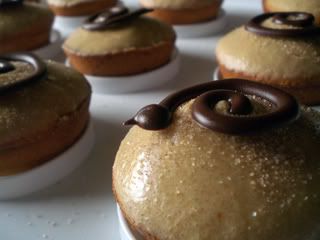 I've just begun, but I'm already struggling to come up with wacky, fun cupcake flavors. This time around, I chose to do Cinnamon French Toast cupcakes. After struggling with a million combinations (maple filling, brown sugar frosting, vanilla cinnamon cupcake? or brown sugar filling, vanilla cinnamon cupcake with maple syrup frosting? etc...) I decided to just do a Vanilla Cinnamon Cupcake with a Maple Brown Sugar Frosting. For my cupcake recipe, I chose
this one
except I halved it.
Vanilla Cinnamon Cupcakes
from
FoodNetwork.com
1 Stick Butter
1 C Sugar
2 Lg Eggs
1.5 C Flour
.75 Tsp Baking Powder
1 Tsp Ground Cinnamon
1/4 Tsp Salt
1/2 C Milk
.75 Tsp Vanilla
Preheat oven to 350.
Cream the butter until light and fluffy. Add sugar and mix until fully incorporated.
Add eggs one at a time, beating after each. In a separate bowl, mix flour, baking powder, salt and cinnamon together.
Combine milk and vanilla together. Alternately add the flour and milk mixtures to the butter mixture, beginning and ending with the flour mixture. Pour into a 12 well cupcake tin. Bake for about 35-40 minutes until lightly golden brown.
The cake was a tiny bit on the dense/dry side, but it was still very good, and it moistened up a bit with time.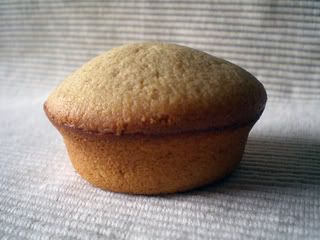 For my frosting, I opted for
this frosting
. This frosting was really more of an icing than a frosting. In fact, I had to dip my cupcakes in the liquidy concoction since piping was totally impossible:
Because I could not cutely pipe the frosting on to the cupcakes, they looked a little blah. To spice things up a bit, I first sprinkled a little bit of cinnamon sugar on top. Then, I mixed 1 teaspoon oil with half a cup of chocolate and melted it to create writing chocolate. On a piece of parchment, I piped little swirlies and popped them in the freezer for a while. When they were solidified enough, I quickly removed them from the parchment and topped my cupcakes with them (be quick, or else they'll get too warm to work with!)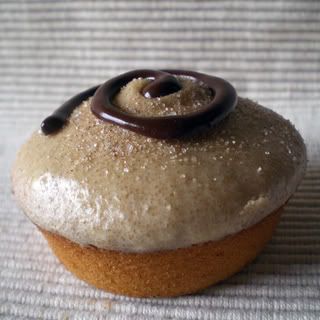 The end result was unique and tasty, but not my best cupcake so far. Anyone have suggestions for funky cupcake flavor combo's that sound too tempting to resist??