My month long sojourn in Italy was absolutely amazing. Actually, amazing is probably an understatement. It far exceeded all of my expectations. Finally, I got to stand in front of many (many, many, many...many many) masterpiece works of art that I have studied for years and actually
see
them - not in a textbook, not on a computer screen, nor projected onto a wall - but in
real
life. Plus, I had the opportunity to dine on some of the best foods I have ever tasted and even, since my host institution was technically a culinary school (though it was an art history program) we even got to get in the kitchen ourselves and whip up some of our own dishes. We were go-go-going from about 8am to 10pm, usually 7 days a week, so we got to see more than I possibly could have imagined. Of course, being the obsessive photographer I am, I took pictures of everything so I can share it all on here. Since this is not an art history blog, and since all together I took about 1300 pictures, I'll spare you the dozens of badly light snapshots of Caravaggios, Raphaels, Da Vincis, & Pintoricchios, the illegally snapped photos of the Sistine ceiling, and the innumerable images of marble statues [ was that boasting? I think that was boasting a little:) ] Instead, I'll post some of the highlights of the culinary portion of this trip to both make you jealous, and give you some hints if you plan on visiting Italy in the near future.
Our trip began with a tour of the San Lorenzo central market so that we would know where to go to get all the amazingly untainted, un-hormone-filled, un-pesticide-ridden fruits and vegetable Tuscany has to offer. Our first stop inside the market was to
Conti
where my professor from UCF used to work pre-Phd, pre-professorship, while she lived in Florence. We were given an extensive olive oil, balsamic and truffled honey tasting. Balsamics of different ages, different flavors, different viscosities, for different uses (yes, I bought a light, red balsamic for my mom intended for use on strawberries...mmm). Olive oils with so much flavor, it can't compare to anything we have over here....all terribly enjoyable.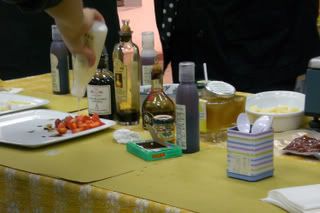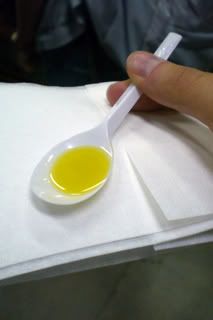 But my favorite thing at Conti would have to be the dried fruit. It wasn't like any dried fruit I'd ever tasted before. I suppose its less dried than most dried fruit here... it was less shrively and less chewy and sweeter. We stocked up (and emptied their stock of strawberries) on our last day in Florence.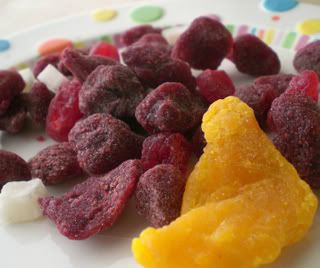 After Conti, we stopped by Pork's, a little sandwich place tucked into a different corner of the central market. My professor introduced us to her friends that ran it so that we'd know where to return when we wanted fresh mozzarella, prosciutto and fried eggplant sandwiches on artisan-style bread... my favorite :)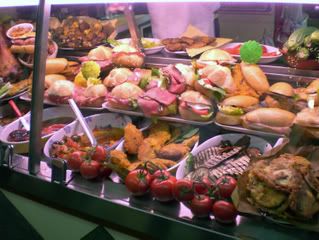 From there, it was off to the best lunch in all of Florence. Right across from the central market is a little trattoria called Mario's. Its tiny store front is quite unassuming.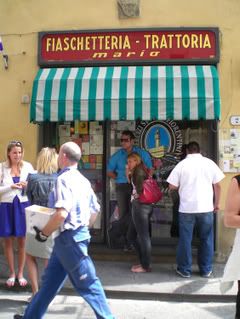 If I hadn't been taken there and forced to go, I'd have just walked right passed it. There were 18 of us with all the students, my professor and her husband, so we gave them our name and waited. I learned quickly that this was the kind of place people waited outside for hours to get a table, and even then, parties were often split up and you were seated anywhere there was room. Our big party was split up into groups of 2's, 3's and 4's and we were seated at tables with strangers. I was put off a bit at first by the tiny, tiny cramped, busy busy interior, and the fact I was sitting with people I didn't know and couldn't even speak the same language as. But when we got the food... we didn't really focus on that as much, haha. My ravioli al ragu was so amazing, that the two other times we went to Mario's for lunch during our stay in Florence, I ordered the same exact thing.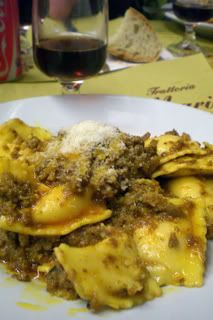 Soon, our group of girls from Central Florida was introduced to the Florentine wonder that is Vivoli. It is, indisputably, the best gelato in all of Florence. Their amazing, creamy flavors are all made from scratch, and if served con panna (with their breathtaking version of a whipped cream topping), I'm pretty sure it could end all the world's wars. Their fragola (strawberry) tastes like you are taking a bite into pint of juicy, ripe strawberries, and their nocciolata (chocolate hazelnut) was my absolute favorite.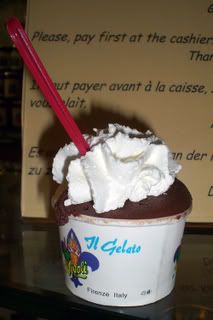 Since we were living in Florence, 24/7, we had some time to explore all that Florence had to offer. On the corner of our block (Borgo La Croce), was a little bakery La Pagnotta.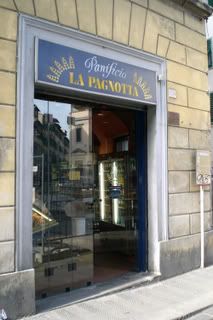 When me and my roommates needed a morning snack, we bought a few mandorla (almond) biscotti. I just have to show these pictures because they looked so cute in the morning light :) I'm such a dork. American biscotti, by the way, just won't cut it anymore.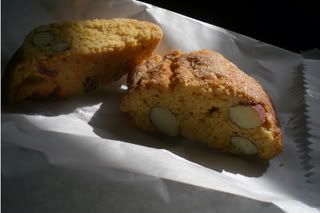 Before we knew it, our first cooking class was upon us. Honestly, a bunch of art history students... none of us had any idea what we were doing, but it was a lot of fun. The menu was chicken pate on crostini, a tomato soup, and biscotti. Fortunately, I was given the responsibility of the almond biscotti ::whew::
This is the recipe for the biscotti we were given in class:
400 gr flour
200 gr sugar
200 gr shelled almonds
3 eggs
1 egg yolk
vanilla (how typically italian, no measurement or anything. interestingly, they use powdered vanilla in italy, not liquid extract)
baking powder Q.B. (no measurement specified, again)
salt
"Make a fountain with the flour, sugar, almonds, vanilla and baking powder; add the eggs and the egg yolk and mix with hands. When well combined, make small loaves and place on a cookie sheet. Bake in an oven preheated to 180 C for 15 minutes. Remove from the oven, cut into the typical diagonal biscotti shape and return to the oven until toasted. These cookies, also called Cantuccini, are traditionally eaten at the end of a meal dipped in Vin Santo, a typical dessert wine."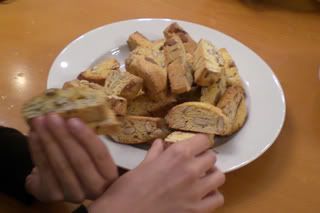 I made these again when I got home. I did my best to translate the European measurements into our ounces/cup amounts, and fahrenheit, and just kinda winged it on the vanilla and baking powder. And they came out quite good! Honestly, I couldn't even tell you how much I put in. Those laid back Italians and their vague instructions, gotta love it. But heres how they came out...
Thats it for part one of the Italy trip. I'll update the rest soon! For now, here is the first thing I baked back home in Florida...
A slight adaptation on these
Gianduia Brownies
To get back into the swing of American-ness, I made some brownies with a nice peanut butter swirl, yet theres a little tinge of Italy in these with the 1/4 C of nutella. I omitted the hazelnuts and changed some things around to fit what I had on hand. This is what I did...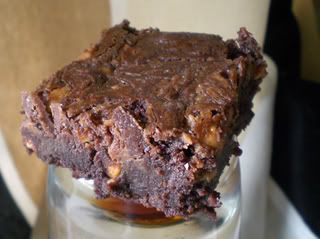 Chocolate Hazelnut Brownies with Peanut Butter Swirl
4 Oz Milk chocolate chips
2 Oz unsweetened chocolate
8 teaspoons sugar
1/2 c unsalted butter
1/4 C nutella
1/2 C A.P. Flour
1/2 tsp baking powder
1/2 c sugar
2 eggs
Pinch of salt
~1/4 c chunky peanut butter
~1 tablespoon granulated sugar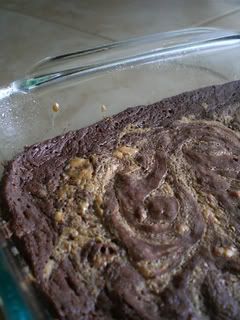 Preheat to 350 and grease a 9 inch square dish.
In a metal bowl set on top of a saucepan of simmering water, combine and melt the butter, nutella, chocolates and 8 teaspoons of sugar. Stir until smooth and remove from heat.
While the chocolate mixture is melting, sift together flour, baking powder and a pinch of salt, and set aside.
Whisk 1/2 c sugar into the chocolate mixture and stir until combined. Add eggs, whisking until glossy & smooth. Stir in the flour mixture until just combined.
Pour into the greased 9" square pan.
Put the peanut butter and remaining tablespoon sugar into the bowl used for the chocolate melting, and put back on top of the double boiler. Stir until smooth. Pour on top of the brownie batter and swirl.
Set in the middle of the preheated over for ~33-35 minutes (or until toothpick comes out smooth).