This will probably be my last post for a little bit, as tomorrow I'm off to New York, and the following day, I'm hopping on a plane to Italy for a months worth of on-site art history lessons. 26 days, the first two thirds in Florence, and the last few days in Rome. So I must kiss Daniel, my beautiful puppy & my beloved kitchen goodbye for a while. It will be sad to leave, and I will be very homesick I'm sure, but hopefully it will be a wonderful time. Hopefully I'll be able to use the internet cafes to make some posts with pictures and maybe even some cooking me and the girls do in our apartments, but we'll see how that pans out. For now, here is my last post before I depart...
I made another batch of those key lime stuffed cupcakes and they came out too beautiful to not post pictures of. Much prettier and softer the second time around. I know you've seen these cupcakes before, but who doesn't appreciate pretty pictures, eh?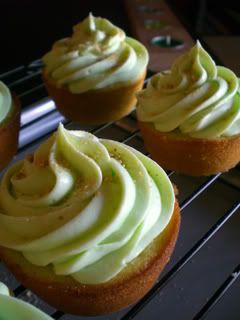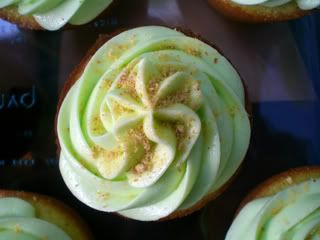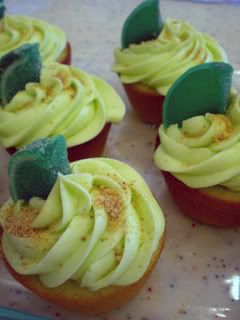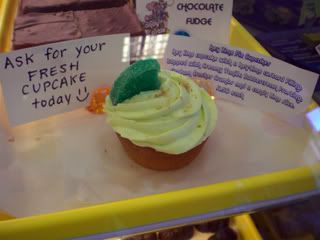 Also, I made some
homemade granola
to bring to New York for my mom for mother's day. My family hardly ever gets to taste my goodies, since they're all the way in New York, and since I'm going anyway I figured I'd make her something special. She told me recently that she puts it in yogurt in the morning for breakfast.
I scaled the recipe down to only a quarter of the original, since I didn't think I needed to bring her 8 cups of the stuff. This recipe was wonderful. It seems like it would be easy to customize. It was a wonderful recipe, my only recommendation is that you start checking it earlier than the website states, I think mine was overcooked a little bit.
Mine went like this...
Homemade Granola with Vanilla, Almonds, Raisins and Cinnamon
1 C Old Fashioned Oats
1/4 C sliced almonds
1/8 C Packed Brown Sugar
Pinch of Salt
Cinnamon to Taste
4 tsp oil
1/2 Tablespoon white sugar
1 tsp vanilla
3 tsp honey
+ I added 1/3 small box of raisins
Position rack in middle of oven and preheat to 300°F. Lightly spray large baking sheet with nonstick spray. Mix next 5 ingredients in large bowl. Combine oil, honey, and sugar in small saucepan; bring to simmer over medium heat. Remove from heat; stir in vanilla. Pour hot liquid over oat mixture; stir well. Using hands, toss mixture until thoroughly mixed.
Spread granola on prepared baking sheet. Bake until golden brown, stirring occasionally, about 30 minutes. Transfer sheet to rack; cool granola completely. (Can be made 2 weeks ahead. Store in airtight container at room temperature.)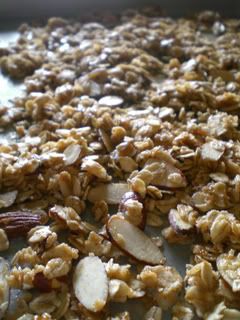 Pre-Bake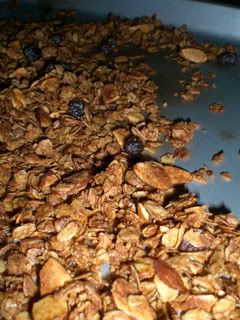 Post-Bake... got all golden and toasty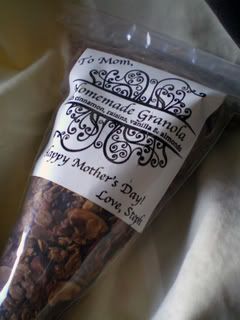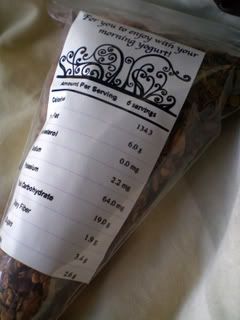 I even included nutrition information for my health conscious mother!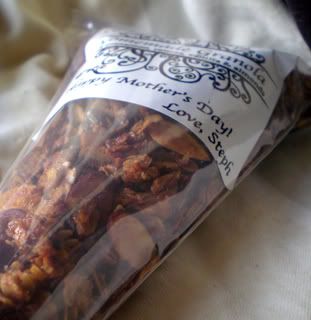 FINALLY, the third baking activity as of late...
Since I'm leaving for Italy, there will be no one to bake the cupcakes for parties. I have heard often that cupcakes freeze just fine as long as it is without frosting, and they are sealed air tight. So, I made two batches & convinced Dan to make the frosting if they are needed. Unfortunately... well...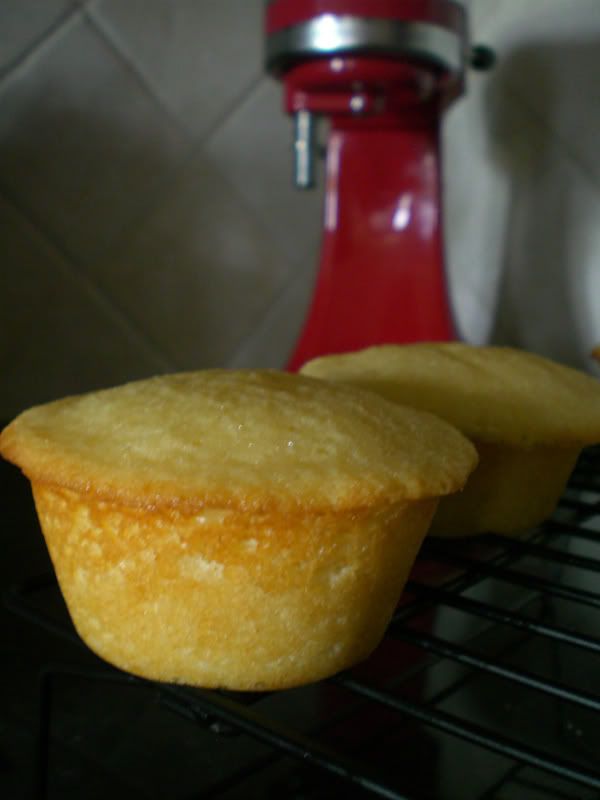 Good Cupcake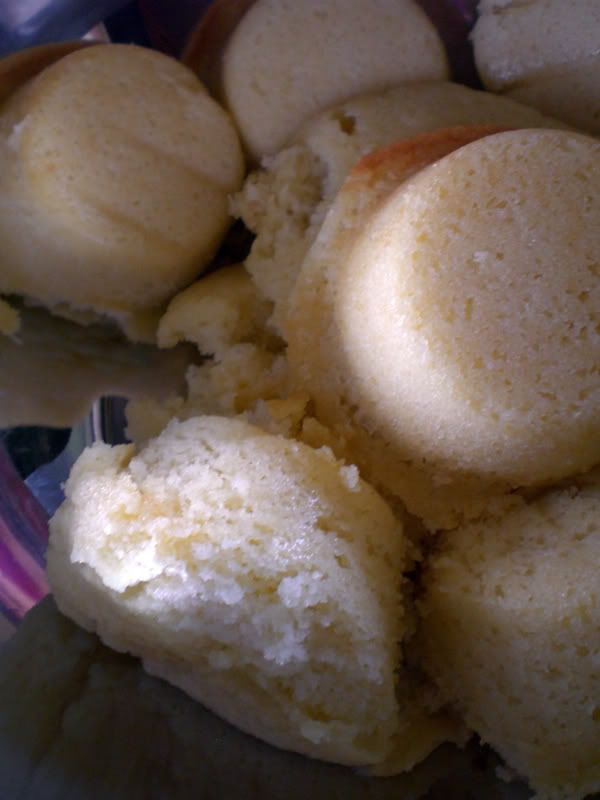 Bad Cupcake
So half of them, I tucked away in zip lock bags - careful to not let the tops touch anything. And then, double air-proofed them in tupperware...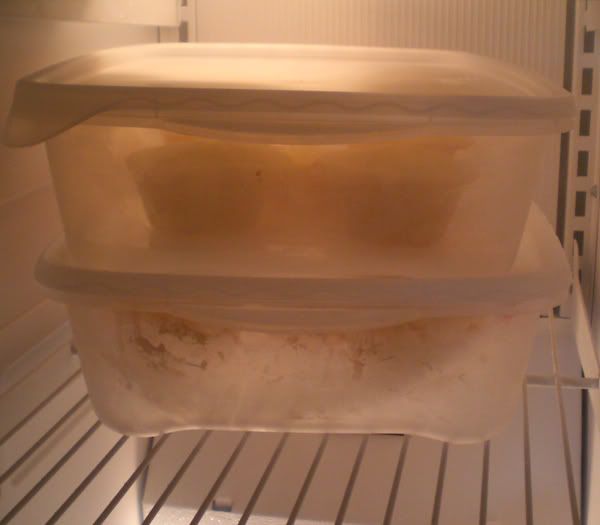 With the other ones... well... I dumped them in a bowl and decided to make more
ballies
with them.
I just can't stand to see my precious time and effort thrown away! Especially since they TASTED good, they were just ugly! Its not nice to throw something away just because its ugly! I made another batch of that disaster strawberry non-frosting to go with it because it worked out so nicely this time.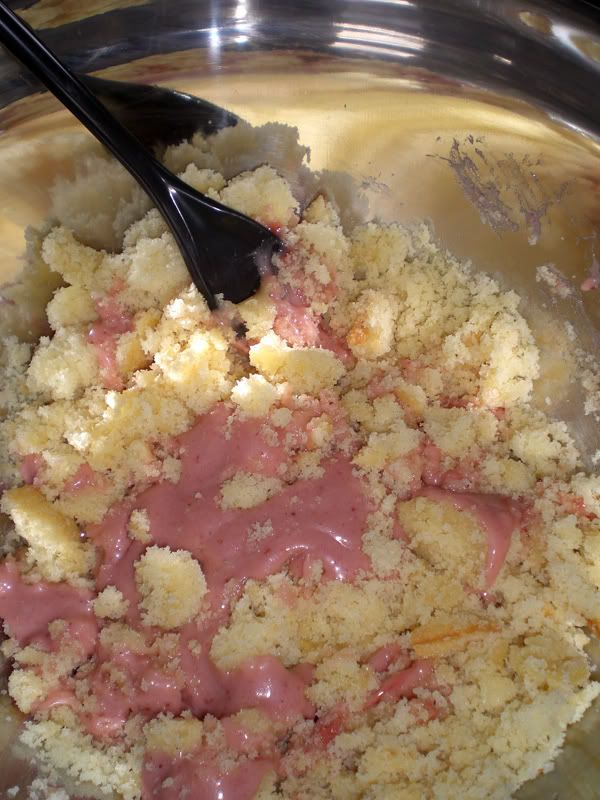 I stirred it all up, rolled it into ballies and froze them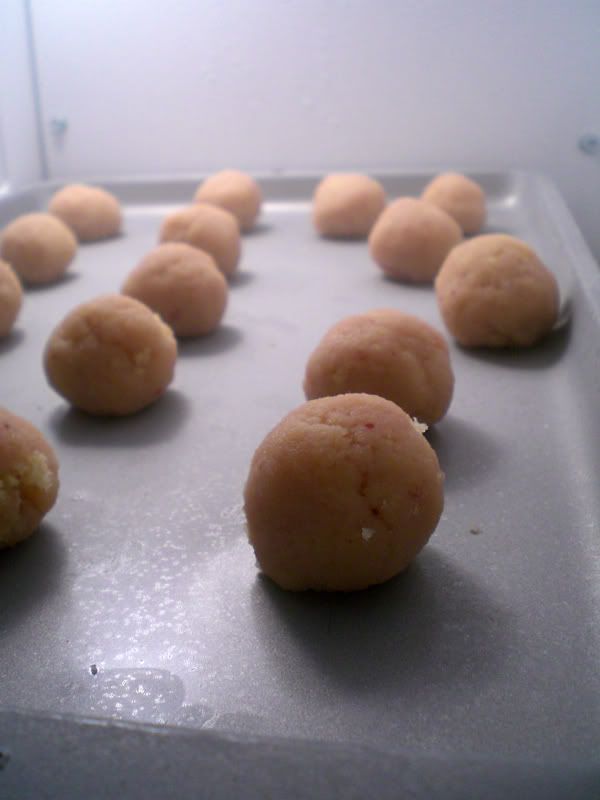 but this time I dipped them in vanilla flavored Candiquik.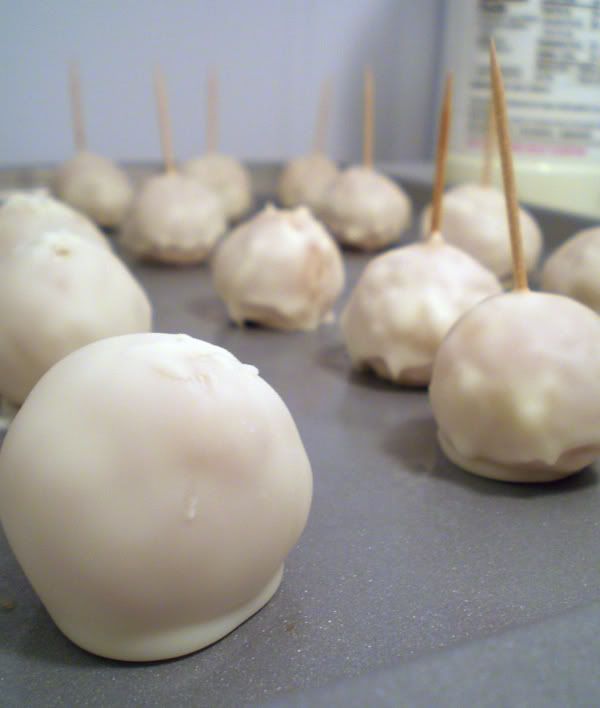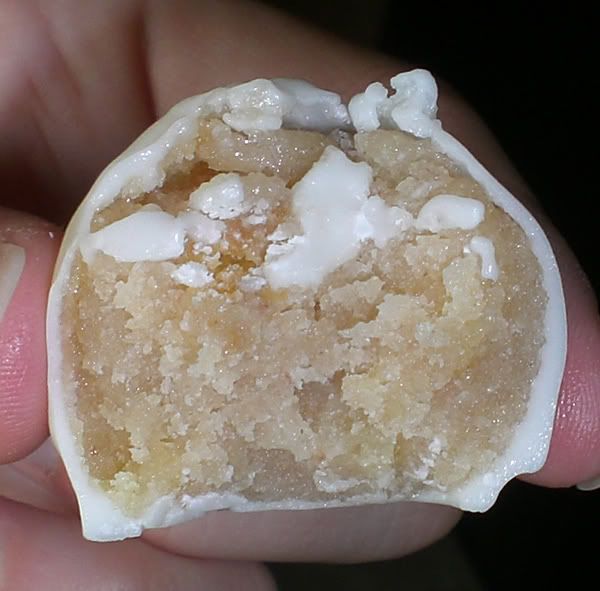 Bellisima, no???
Anyway America, that is all for now. I shall see you hopefully from a cute little Italian internet cafe, and if not, I'll see you in June. Ci Vediamo, America!