When I made the Abstract Expressionist cupcakes I mentioned that I kept some of the mini cupcakes that didn't come out so good with the intention of using them for something else. When I saw
this amazing idea
, I was inspired. I took the deformed cakelettes out of their wrappers and dumped them into a bowl, plopped some of the strawberry jam disaster frosting on top, and stirred it all together into a mushy mess with a spoon. I grabbed chunks of this concoction, threw them on a cookie sheet and popped them into the freezer until yesterday.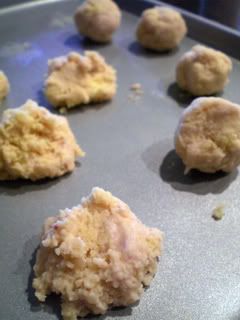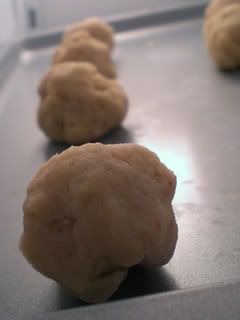 After rolling them into circles and melting down some almond bark, we were in business. I put them on a toothpick, dipped them into the melted chocolate, and put them back in the frig to chill until the chocolate was set. I suppose I'll have to work on my dipping skills, these don't look particularly attractive, do they?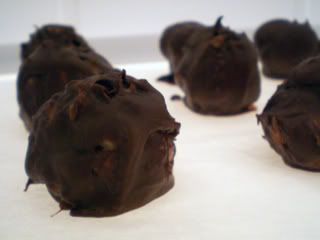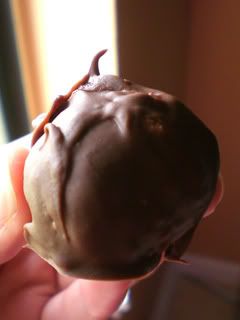 When you bite into it...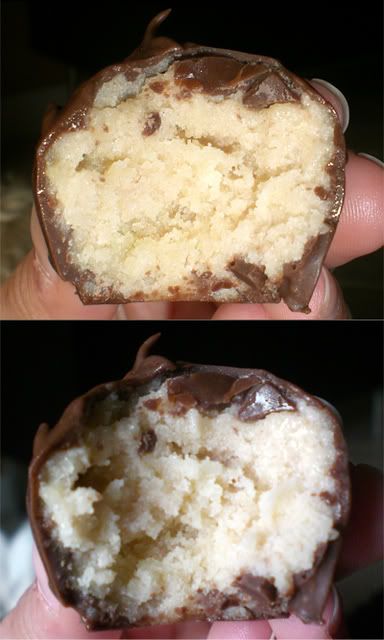 ...the taste certainly makes up for the lumpy-looking chocolate coating. The inside was moist - not quite cupcake-ish. More like a petit-four, or a heavier moister Popem. As I've said a million times, Dan doesn't like chocolate, yet for some reason he ate a whole row of Chocolate ballies. If you ever need a quick, different, snack-sized dessert, I suggest doing something like this. Perhaps in a future attempt, I might pour melted chocolate on top for a smoother look. But either way, once people eat them, they won't care what they look like. I think it would work well with any frosting/cake combo.