I wanted to give my favorite
Key Lime Cupcakes
recipe another go - except do more with it this time. I started with the same recipe for the cupcake itself.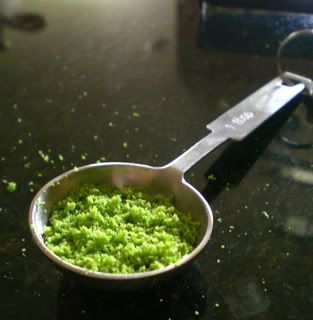 After the limes were zested, the batter was made, and the cakelets were baked, I chopped their hats off again.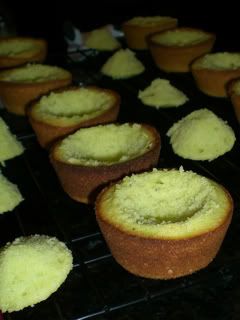 I took Lucky Leaf Key Lime Pie filling and put about a heaping teaspoons worth of the custardy stuff inside each cupcake.
Then, I tried a different frosting recipe this time. I want a vanilla frosting recipe that can be piped, but is stiff and keeps the piping lines. Even better, I'd like it to be cooked so its more stable. But this time I tried a different non-cooked recipe because the picture made it look so convincingly stiff. Unfortunately, I can't find the link to where I got the frosting recipe, but it is just your basic frosting, just with different proportions of the ingredients...
1/2 C butter, soft
3 C sifted confectioner's sugar
1 tsp vanilla extract (i used clear to keep it white)
3 Tablespoons milk
Beat butter, sugar, vanilla and 3 tablespoons of milk on low.
Add more milk if necessary to get it smooth and creamy.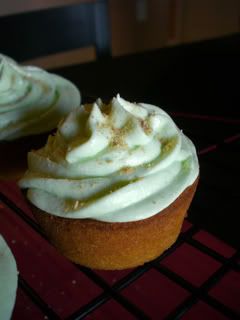 Well, I didn't need to add any additional milk, yet mine was still very very smooth. Probably too much so. This actually resulted in a less stiff frosting than I usually use. For now, until I discover that perfect vanilla frosting recipe, I suppose I'll go back to my trusted CIA recipe.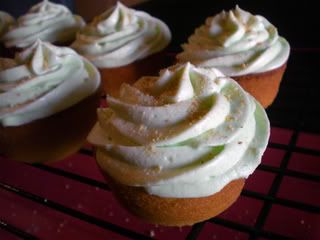 I sprinkled some graham cracker crumbs on top, to get that little bit of crust taste you normally have in a key lime pie.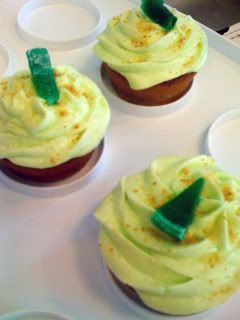 And finally, put some little candy jelly lime slices on top.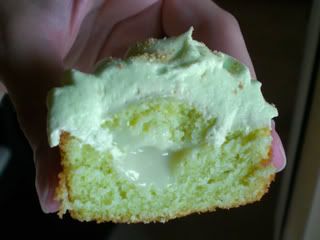 Yum.
Overall, the key lime flavor in the cupcake itself was a bit subtle, but it was there. Combine that with the creamy vanilla buttercream, a few graham cracker crumbs, and the teaspoon of tart key lime custard, and it was a winning combination.