We have temporarily put aside the quest for the perfect cupcake to make these cookies. Here is a recipe for carrot cake cookie samiches with cream cheese filling, and since we both can't resist an opportunity to add food coloring to anything-and-everything, we appropriately tinted our filling a lovely carroty shade of orange. I searched for different recipes for carrot cake cookies and kinda combined them all into this one:
Carrot Cake Cookie Sandwiches
1 C packed brown sugar
2 sticks unsalted butter, softened
2 large eggs room temp
1.5 C all purpose flour
1 tsp baking soda
1 tsp baking powder
1/4 tsp salt
1 1/8 tsp cinnamon
1/2 tsp ground ginger
1/2 tsp groung nutmeg
1 2/3 C rolled oats
1 1/2 C finely grated carrots
2/3 C raisins
1 tsp vanilla extract

Preheat to 350 (but not yet, since dough needs to chill for 30 minutes!)
Beat brown sugar and butter until light and fluffy. Add eggs and vanilla, beat until well combined.
In a separate bowl, sift flour, baking powder & soda, the salt, cinnamon, nutmeg and ginger together. Slowly add this to the wet mixture. Once it is combined, add the oats, carrots and raisins in alternately.
Chill 30 minutes in refrigerator. Line baking sheets with parchment paper. Scoop out balls of dough about the size of a ping pong ball. We used a cookie scoop to make nice little bally shaped ones, since these cookies retain their shape after baking for the most part. Bake about 12 minutes, and then pull parchment paper off onto a wire rack to cool.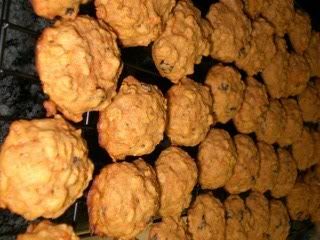 Cream Cheese Filling
4 oz cream cheese softened
1/2 stick butter softened
1/2 c confectioners sugar
1/2 tsp vanilla
*Note, this does not make enough filling for the entire batch of cookies, since we wanted to have some without. If you want to use a good amount of filling in all of the cookie sandwiches, you should probably double all of these measurements.

Beat butter and cream cheese until smooth and creamy. Slowly add in the sugar, and once combined, add the vanilla (and then the food coloring if you are pigmentally inclined like we are).
When cookies are entirely cooled, pipe a good amount onto the flat side of a cookie, and top with the flat side of another cookie.


Keep refrigerated once frosting is put on. Even when served cold, right out of the frig, these cookies were received very very well, and were veryyyyy moist. Enjoy!